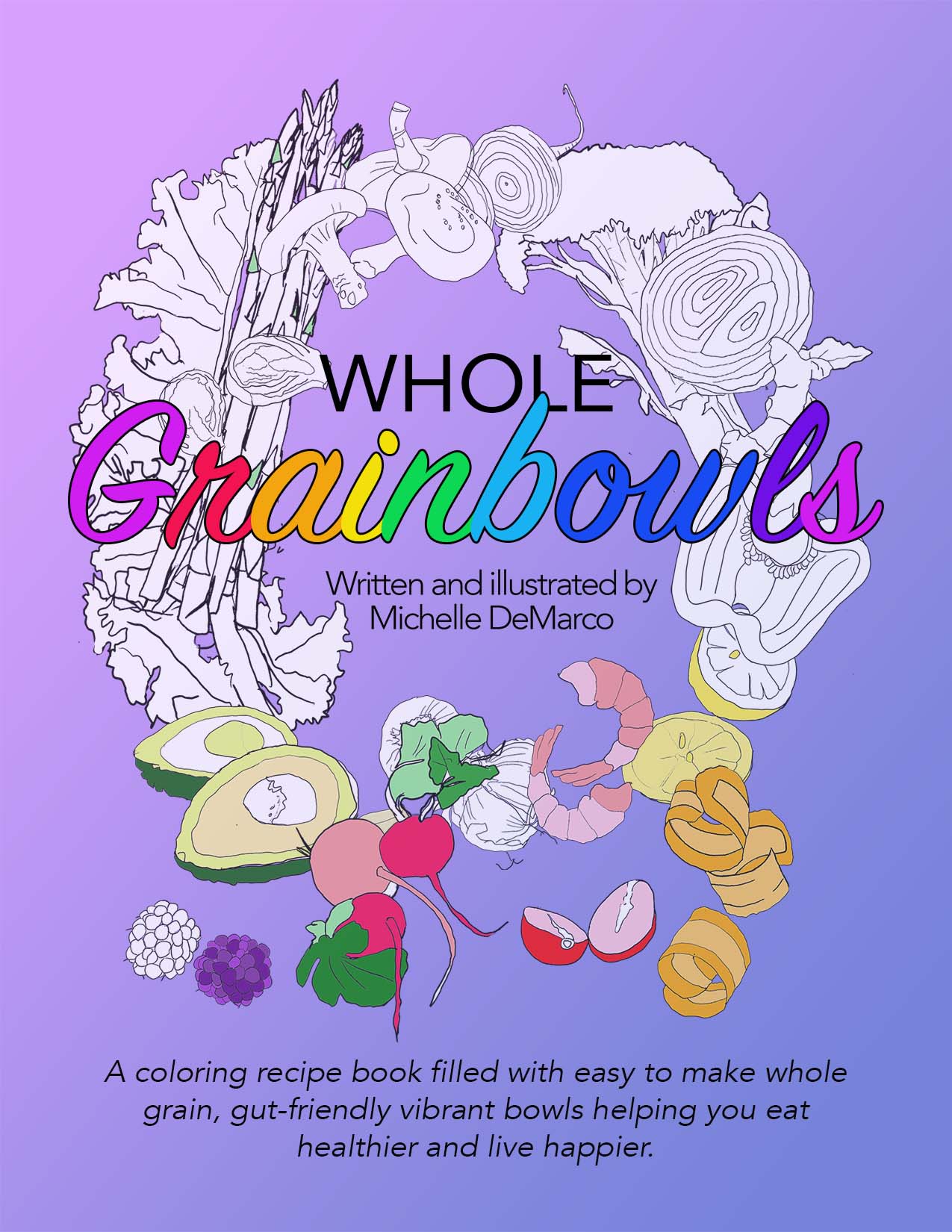 Whole Grain Bowls: New Adult Coloring Book Fills a Fun Nutrition Niche
llamaGoose Studios announces the release of Whole Grainbowls by Michelle DeMarco, available on Amazon.
LamaGoose Studios announces the release of Whole Grain Bowls by Michelle DeMarco, available on Amazon. This book builds on Michelle's many years of experience as an artist and illustrator by combining original hand-drawn illustrations with proven whole grain bowl recipes.
Whole Grain Bowls: A coloring recipe book filled with easy-to-prepare, gut-friendly, vibrant whole-grain bowls, has 72 coloring pages and fills a niche for coloring books and healthy eating enthusiasts. This coloring book organizes four easily accessible whole grains: farro, oats, quinoa, and wild rice into 28 different recipes. These one bowl dishes are delicious and easy to prepare; Here is a sample of included recipes, Cozy Curry Banana Splitz, Beet Poke and Mango Mama bowls.
Created with love with page after page of fresh, hand-drawn ingredients, Whole Grainbowls are vibrant and delicious. Michelle describes the book as "fun and creative to illustrate and hopefully equally satisfying to put together and color". West Massachusetts-based designer, artist, illustrator and author adds a new genre to adult coloring book offerings: "I knew I could add something unique to the many adult coloring book choices with my book. There are very few coloring books available that incorporate recipes into the pages which makes my book unique.
Michelle DeMarco's accomplished career in art and design has included work for Fortune 100 companies, TV stations, and publishers. Michelle DeMarco attended the University of Massachusetts, Amherst, where she graduated with a Bachelor of Fine Arts. Galleries from New York to Maine showcased his egg tempera paintings. She is also the illustrator of this world ! and Growing feathers, a wordless picture book on the joys of reverie.
About llamaGoose Studios
llamaGoose Studios is a collaborative publishing company created in 2019 as a space for artists, illustrators, writers, designers and creators to share their work. At llamaGoose Studios, we live for the moments you can't put words to. We believe visual storytelling can build both our and your tolerance for the miraculous. We create great stories, some with words and art, but most with just pictures.