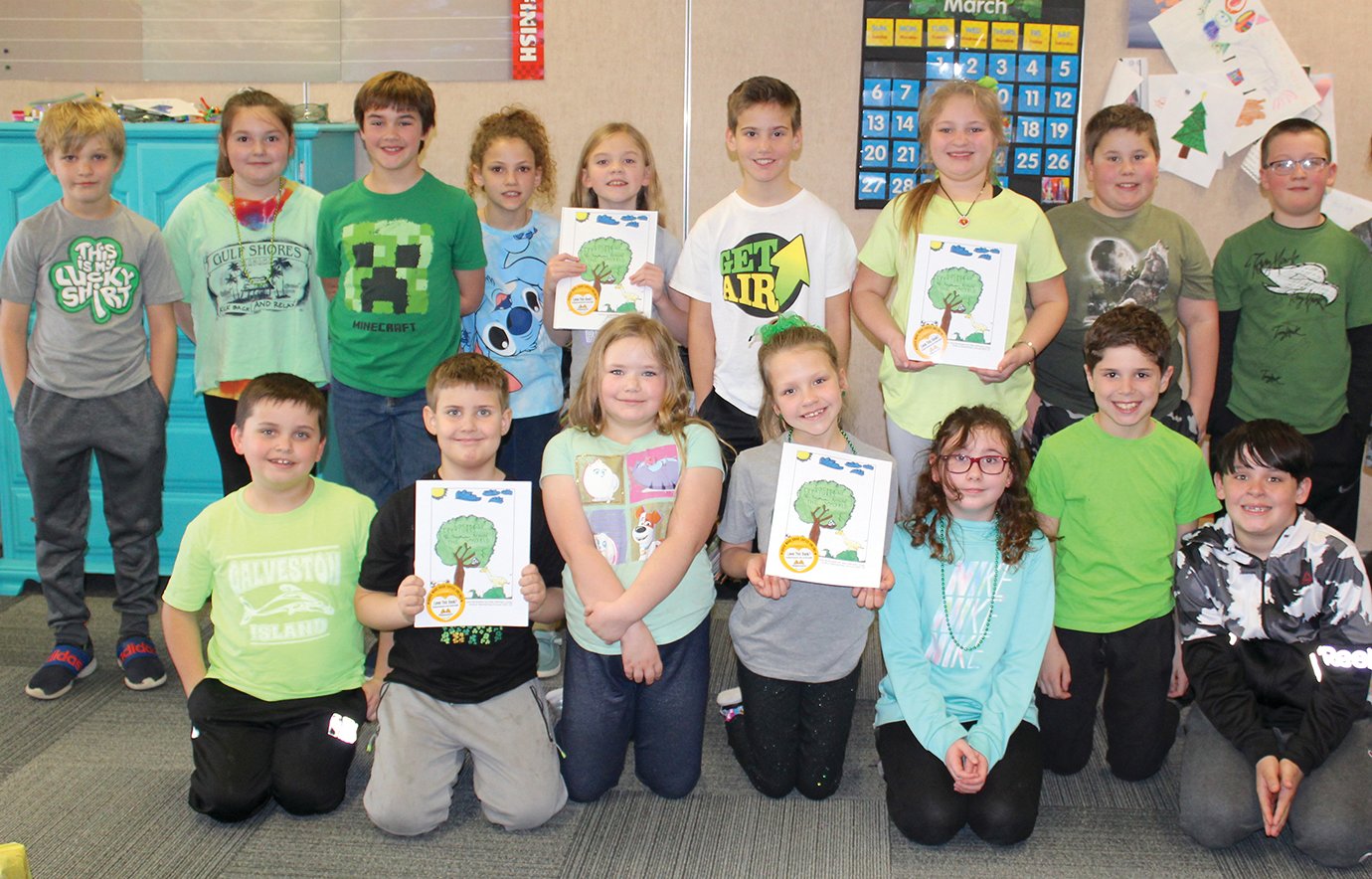 Walnut Elementary class publishes its first book
Samantha Dittmer's third graders show off their work Thursday at Walnut Elementary School, including, in no particular order: Autumn, Walker, Kadyn, Jackson, Haven, Kaylee, Jeffrey, Kaleb, Hailey, Ryley, Hudson, Brantly, Tori, Brylee and Hunter.
Nick Wilson/Newspaper Review
NEW ROSS — The kids in Samantha Dittmer's third-grade class at Walnut Elementary have done something remarkable — something even the most seasoned author struggles to accomplish.
They released a book, with custom designs and teachings about their favorite animals. It is now making its way through Student Treasures Publishing's marketing campaign.
"I have to draw a giraffe," third-grade student Haven Estelle said Thursday during class. "Sometimes they have over 100 spots on them. Giraffes can weigh up to 3,000 pounds.
The finished book was presented by Dittmer and director Eric Brewer at the Southmont District meeting on Monday, with the couple and board praising the little tykes' accomplishment.
"They each got to choose their own animal, and then they had to research where it lived, what kinds of things it ate, all kinds of things. They could write their own paragraph about it, then they drew a picture and also colored it.
Dittmer said she was apprehensive about the idea, at first, because her students had only been able to write for about a year before the project.
"I was a little worried about that because it's the first time they've written a lot, especially in second grade where they just did like a sentence or two," she said. "But they did a very good job. All have worked very hard. They were really proud of the book.
Brewer said he took on the idea when Dittmer first pitched it in January, adding that the project was indicative of what was happening at Walnut.
"I just think it's great when someone wants to do something innovative and has the initiative to do something different," he said. "It also creates a keepsake for the kids, like a memory book. If you're like me, you still have books from your elementary days. It's cool for them to have their own hardcover book and have their work in there, with their own writing.
Third graders Walker Cleek and Jackson Duke took a moment to talk about their work.
When asked what their favorite part of the process was, Cleek said "probably writing the story", while Duke said "cover design and drawing".
The couple chose the Tasmanian devil and the anaconda for their pets.
The book can be found and ordered online at www.studenttreasures.com/ordercopies.