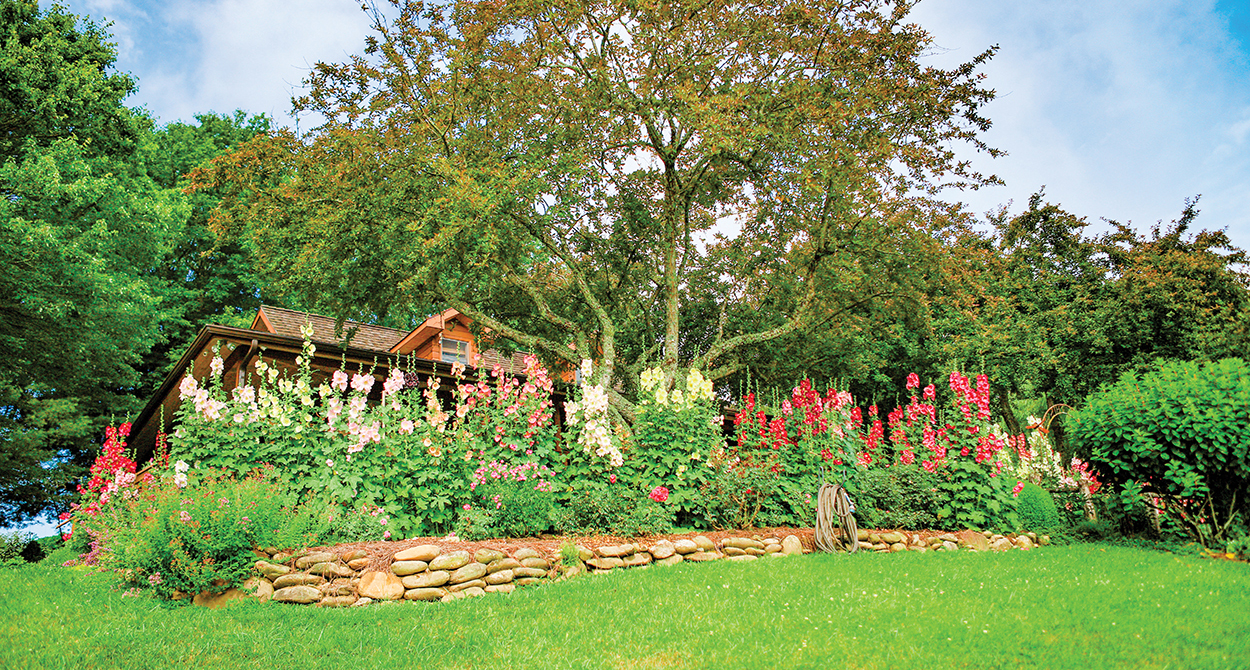 Vibrant Mixes | Laurel Magazine
Written by: Ann Self | Publish: September – 2022
Becky Savitz's garden demonstrates a passion for careful stewardship and an enduring love for the beauty of nature.
---
LnRiLWNvbnRhaW5lcltkYXRhLXRvb2xzZXQtYmxvY2tzLWNvbnRhaW5lcj0iMGQxNDkzYzBjZWM1YzQyMmRiMzNlOTc2NmZjYTFmZDciXSB7IHBhZGRpbmc6IDEwcHggNDBweCAxMHB4IDQwcHg7IH0gLnRiLWNvbnRhaW5lcltkYXRhLXRvb2xzZXQtYmxvY2tzLWNvbnRhaW5lcj0iZWQzODMyYWE2MjAxY2JlYzViMWU1YjkwMmRjMDY3ZTIiXSB7IHBhZGRpbmc6IDI1cHg7IH0gLnRiLWJ1dHRvbltkYXRhLXRvb2xzZXQtYmxvY2tzLWJ1dHRvbj0iZTVkMGMwYWZjZWM1ZWRiOTA5MWEwMGU3Zjc2ZmJjODkiXSAudGItYnV0dG9uX19saW5rIHsgYmFja2dyb3VuZC1jb2xvcjogcmdiYSggMTU5LCA4MiwgNTcsIDEgKTtib3JkZXItcmFkaXVzOiAwO2NvbG9yOiByZ2JhKCAyNTUsIDI1NSwgMjU1LCAxICk7Zm9udC1zaXplOiAxMnB4O2xpbmUtaGVpZ2h0OiAxMHB4O3RleHQtdHJhbnNmb3JtOiB1cHBlcmNhc2U7Y29sb3I6IHJnYmEoIDI1NSwgMjU1LCAyNTUsIDEgKTsgfSAudGItYnV0dG9uW2RhdGEtdG9vbHNldC1ibG9ja3MtYnV0dG9uPSJlNWQwYzBhZmNlYzVlZGI5MDkxYTAwZTdmNzZmYmM4OSJdIC50Yi1idXR0b25fX2ljb24geyBmb250LWZhbWlseTogZGFzaGljb25zO21hcmdpbi1yaWdodDogNXB4OyB9IC50Yi1idXR0b25bZGF0YS10b29sc2V0LWJsb2Nrcy1idXR0b249ImU1ZDBjMGFmY2VjNWVkYjkwOTFhMDBlN2Y3NmZiYzg5Il0gLnRiLWJ1dHRvbl9faWNvbjo6YmVmb3JlIHsgY29udGVudDogJ1xmNTA4JzsgfSAudGItZmllbGRbZGF0YS10b29sc2V0LWJsb2Nrcy1maWVsZD0iZTk1NDE4ZjgxYmZmMjFjMzQ1OTZkYjY2MjhmNDVlYjIiXSBhIHsgdGV4dC1kZWNvcmF0aW9uOiBub25lOyB9ICBbZGF0YS10b29sc2V0LWJsb2Nrcy1pbWFnZT0iZjI5MTJiODMzZDM1MjEzYmNiOGM3MzhlZGMwZjU5ZTciXSB7IG1heC13aWR0aDogMTAwJTsgfSAudGItZmllbGRzLWFuZC10ZXh0W2RhdGEtdG9vbHNldC1ibG9ja3MtZmllbGRzLWFuZC10ZXh0PSI4YmFhZjBmOTZlZGYzMzJkZTg4MmRmZDIzNDVkZjYzMiJdIHsgbWFyZ2luLXRvcDogMDtwYWRkaW5nLXRvcDogMDsgfSBAbWVkaWEgb25seSBzY3JlZW4gYW5kIChtYXgtd2lkdGg6IDc4MXB4KSB7IC50Yi1maWVsZFtkYXRhLXRvb2xzZXQtYmxvY2tzLWZpZWxkPSJlOTU0MThmODFiZmYyMWMzNDU5NmRiNjYyOGY0NWViMiJdIGEgeyB0ZXh0LWRlY29yYXRpb246IG5vbmU7IH0gICB9IEBtZWRpYSBvbmx5IHNjcmVlbiBhbmQgKG1heC13aWR0aDogNTk5cHgpIHsgLnRiLWZpZWxkW2RhdGEtdG9vbHNldC1ibG9ja3MtZmllbGQ9ImU5NTQxOGY4MWJmZjIxYzM0NTk2ZGI2NjI4ZjQ1ZWIyIl0gYSB7IHRleHQtZGVjb3JhdGlvbjogbm9uZTsgfSAgIH0g
Becky Savitz's garden looks like the pages of a fairy tale book. Colored. Capricious. Magical. Even the life-size mosaic cow standing at the back of its yard seems to have a secret story to tell. In fact, it is. Becky'sgarden was once a cow pasture. Years of accumulated cow manure became the fertile soil for five acres of sun-drenched hills, part of her formula for creating an Eden-like oasis. During the summer, Becky's Garden is in full bloom, bursting with a wide variety of flowers near her home. However, the plants grow hundreds of miles south in Tampa, Florida, where she spends the winter months with her husband, Ed. "I buy my seeds from Johnny's SelectedSeeds," she explains. "My home in Tampa is ideal for cultivation." Becky makes individual greenhouses with flat trays of rich soil seeds and clear plastic bags with knife-like plant markers to support them. When the seeds begin to sprout and grow, she moves them to shelves in the hot Florida sun to await their journey to the mountains of North Carolina in mid-May. "Each year, we pack several thousand plants ready for planting into a U-Haul truck," she says. "When we get there? Instant Garden!" Walkways lined with a vibrant mix of towering hollyhocks invite visitors to explore the different garden zones within the acreage. Hydrangeas, boxwood, and rows of espaliered fruit trees help define distinct spaces. The flowerbeds include multicolored zinnias, poppies and nasturtiums interspersed with grasses and roses. "I plant so there's something to bloom all season long," says Becky. Climbing roses cover the fences and arbors, including one with a gate to welcome guests to the center of what Becky calls the wedding garden where her daughter got married. Atable with one of his spade plate mosaic creations sits in the middle with a tile saying Thyme Began In a Garden. The saying refers to the name of Becky's garden, WildThyme. In the garden are more than 100 varieties of thyme. Grass lines the flowerbeds and steps leading up to the house. "When you walk on thyme, it gives off the most wonderful smell," she observes. But perhaps the saying also alludes to a more spiritual purpose and place. For Becky, the garden, like Eden, bears witness to God's creation and re-creation. Land that was once covered in manure has been transformed into something beautiful and full of life.
by Ann Self