Universal Hydrogen concludes agreements with 3 airlines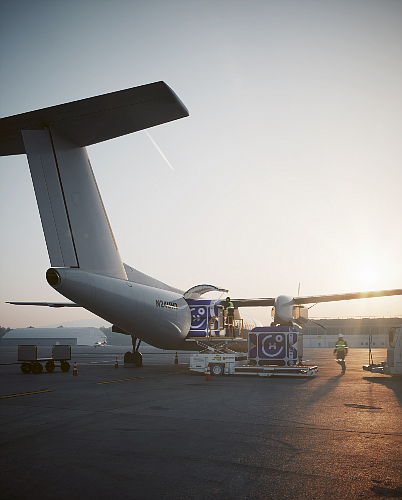 Universal Hydrogen Co., a Venice-based aerospace company specializing in carbon-free flights, on July 14 announced agreements with a US airline and two international carriers.
The company has signed letters of intent to provide green hydrogen services to Corvus Airlines, based in Anchorage, Alaska, which operates under the names of Ravn Alaska, Valencia, Air Nostrum, Spain , and Reykjavík, from Icelandair Group, based in Iceland. Financial terms of the agreements have not been released.
"Every day, our airline explores innovative solutions to deliver a travel experience with minimal negative impact on the environment," said Carlos Bertomeu, Chairman and CEO of Air Nostrum, in a statement. "This partnership represents a unique opportunity to advance in the decarbonization of our aviation operations through the practical and cost-effective application of green hydrogen fuel. "
Universal Hydrogen will sell 11 turboprop conversion kits, which include a fuel cell and electric powertrain to replace conventional turbine engines on planes, to Air Nostrum for its current and future fleet.
Icelandair will use the company's kits to continue "full decarbonization" of its entire national fleet.
As part of Universal Hydrogen's deal with Ravn Alaska, its first with a US-based airline, the company will convert five planes using the turboprop kits. The agreement will also make Universal Hydrogen the long-term provider of green hydrogen fuel services carrier for its regional fleet.
"We are delighted that Ravn Alaska is our first US domestic airline partner seeking to decarbonize its airline operations in the near term," said Paul Eremenko, co-founder and CEO of Universal Hydrogen, in a statement.
Founded in 2020, Universal Hydrogen focuses on manufacturing kits for commercial hydrogen flights.
The company has developed its kits to modernize regional aircraft that can accommodate up to 60 passengers with hydrogen-electric powertrains compatible with its existing modular capsule technology to "accelerate market adoption," the company said. Universal Hydrogen aims to make the kits available to commercial airlines by 2025. Although new to the green aerospace industry, the company has gained the attention of investors. It closed a $ 20.5 million funding round in April led by Palo Alto-based venture capital Playground Global. The company said it plans to use the funding to further develop its technology and strengthen its business activities and partnerships. "We see the short-term decarbonization of regional aviation as a first step and a catalyst, putting the entire industry on the path to meeting the Paris Agreement emissions targets," said Eremenko in a press release.
For reprint and license requests for this article, CLICK HERE.