Two-time state champion reaches National Spelling Bee quarter-finals | Education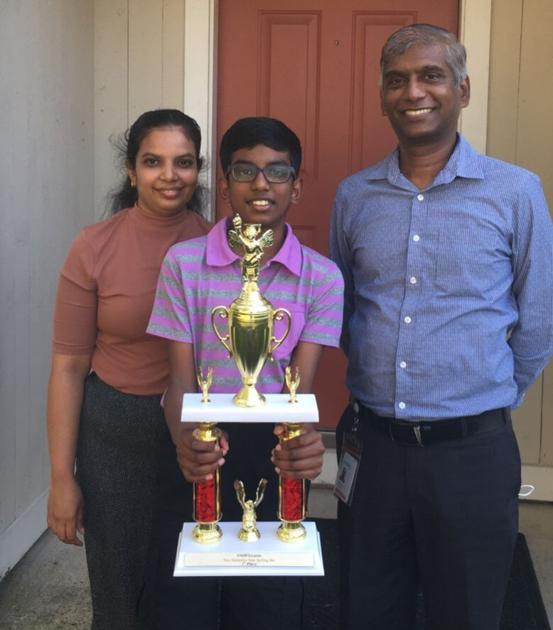 Two-time New Hampshire state spelling champion Aadhavan Veerendra advanced to this year's Scripps National Spelling Bee quarterfinals.
Saturday's preliminaries consisted of three rounds of oral competition.
In the first round, candidates were asked to spell a word. If they spelled it correctly, they moved on to the second round by answering a multiple choice question about the meaning of a word.
If they answered correctly, they were asked to spell another word.
Addy, 11, from Portsmouth, correctly spelled three words – coat rack, tremor (in response to a question asking "something described as thrilling is …") and promptuary.
The spellings that answered the three questions correctly made it to the quarter-finals on Tuesday.
All competitions up to the semi-finals will take place on a virtual basis. The top 10-12 finalists will travel to the ESPN Wide World of Sports complex in Bay Lake, Florida for the finals, which take place on July 8.
The bee is limited to students who were in eighth grade or below on August 31, 2020. Participants are aged 9 to 15 years old.
The domain includes spellings for the 50 states and the District of Columbia, as well as schools in Guam, Puerto Rico, the US Virgin Islands, and the Department of Defense in Europe.
Four foreign countries are also represented: the Bahamas, Canada, Ghana and Japan.
The winner will receive $ 50,000, a commemorative medal and the Scripps Cup, the official trophy of the Scripps National Spelling Bee Championship, from Scripps, which owns television stations and cable and broadcast networks.
The winner will also receive $ 2,500 and a comprehensive reference library from the Merriam-Webster dictionary editor; $ 400 worth of Encyclopedia Britannica reference books, including a replica of the 1768 encyclopedia and a three-year online subscription.
The coronavirus pandemic prompted organizers to make several changes to the bee in addition to running the competition on a virtual basis until the semifinals and dropping a multiple choice test with 12 spelling words and 14 vocabulary questions.
Veerendra won the New Hampshire State Spelling Bee – sponsored by the Union leader – for the second year in a row in March, after correctly spelling "dhole" (an Asian wild dog).