The art and introspection of Rork Maiellano | Enjoy the details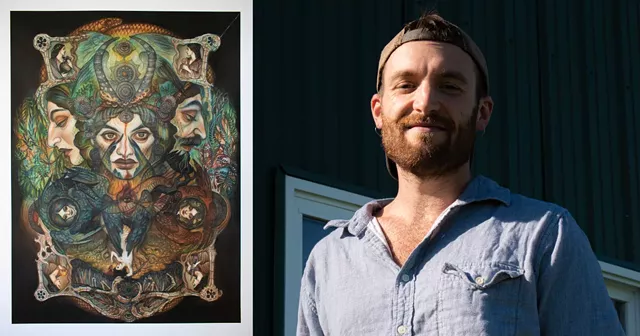 If there was ever one artist equipped to handle the isolation that many people have felt throughout the pandemic, it was Rork Maiellano. He has been sitting with himself for most of his life, sometimes by circumstance, sometimes by design, sometimes by necessity.
"Even before everyone was quarantined, I had started to really express my introversion," says Maiellano, whose fantastic storybook-like illustrations delve deep into the intricacies of archetype and symbolism.
"I don't feel like I'm in a place where being a social butterfly feels good anymore, it hasn't been for a while," he says. "So in a way I think I was suited, I was ready to be alone and spend a lot of time alone."
Whatever the motivation for his loneliness, Maiellano did not waste his time alone.
In October, he was commissioned to paint a mural in the iconic Statler City building in downtown Buffalo for The Witches Ball, an immersive annual Halloween experience featuring local artists, actors, musicians and mediums. That same month, he was the resident tarot reader at the Yards Collective's Spectral Carnival. Earlier in the year, he found work designing the dream album cover for the reissue of The Pax Cecilia's "New."
Maiellano, 35, grew up gay in the small town of Pavilion, Genesee County, where he started showing an aptitude for drawing at the age of 3. His parents nurtured his talent, first by hiring art teachers and, when he was in high school. , by introducing her to nude drawing lessons.
After graduating from SUNY Purchase in 2008, he moved to Rochester. There was a time, Maiellano recalls, when his art fell aside because he felt like he was creating the same thing over and over again and not questioning himself.
Four years ago, however, alongside pre-pandemic isolation, he focused on his art, with a stronger desire and willingness to engage in the arduous process of creating his best work. As the health crisis struck and persisted, this creative focus crystallized.
"I surprised myself with that," he says, closing his eyes every time he speaks, as if looking deep inside. "I found a flow again, which was a crazy feeling."
These days, he divides his time between town and his parents' home in Pavilion, spending much of his time focusing on making meticulously detailed illustrations.
The work, he says, is meditative and tedious.
Each work is the result of countless hours of creating layers of colorful markings that bring a rich dimension to the images. Her Instagram account shows several finished pieces and work in progress that reveal the process from sketch to finished piece.
His designs are intricate, often featuring scenes that seem likely to accompany Victorian-era fairy tales, and balance arrangements of human faces and figures that allude to symbols of good and evil.
"It's incredibly repetitive and laborious," Maiellano says. "But I like boredom. I like to force myself to put up with this hustle and bustle and frustration, and I also hate it, when I go through it, but it's so worth it in the end, because of what can be done.
A recent work, "Serpentine," features a trio of ornate faces surrounded by lush foliage, angels with flapping wings, flaming hearts, bones, branches, and cathedral-like architecture. The whole thing is framed by an ouroboros, the iconic snake with its tail in its mouth, cannibalizing itself forever and being reborn at the same time.
Details abound and emerge the more you look at the work. On larger faces, snake scales appear in the hollows of the cheeks. Two of the heads have thin forked tongues that fly through the air. But all of these holy and ungodly images are part of a perfect whole, not engaged in a power struggle.
Maiellano posted this work on his Instagram account at the end of September with a caption that read: "I think this time invites us to take on our own complexity; our shadows AND our light. Do not demand that we see ourselves as just "good" or just "bad", and offer the same to each other. "
When I first met Maiellano in 2014, he didn't seem as focused and confident about his job as he does now.
Then, as a resident artist at The Yards, he experimented with the idea that the personal connection of a conversation could be an artistic medium. He recorded conversations with friends and strangers at the public market, hoping the relationship process would ground him and others in connection and compassion.
Conversations have at times touched upon mutual vulnerabilities and resulted in a journey down dark and emotional roads. In some magical moments, he and his conversation partners shamelessly discussed opportunities for personal growth.
Today Maiellano says he reveled in aspects of himself that brought confusion and shame, especially his sexuality and his propensity to be alone with himself.
"I think it's great to be gay," he says. "There's a built-in mysticism, you know. I feel like being queer and having to hide a lot as a kid made me very introspective and connects me to a very deep part of myself that I think is very protective. I think it's the voice of my intuition. And it's a very loving voice. It has not always been the case.
He still pursues in-depth conversations, now using tarot readings as a vehicle to connect with strangers and friends, and offering them an ear to talk about whatever they need to discuss. A good tarot reading can work as a cheap but effective therapy.
Maiellano's new work of art merges her interest in embracing both the beauty and the darkness of the human condition.
The end of her Instagram caption for "Serpentine" could easily serve as an artist statement: "Make a relationship art and be the keeper of the other; the stewards, as much as we can, each for everyone, even when it is scary. "
Rebecca Rafferty is the editor-in-chief of CITY and can be contacted at becca@rochester-citynews.com.