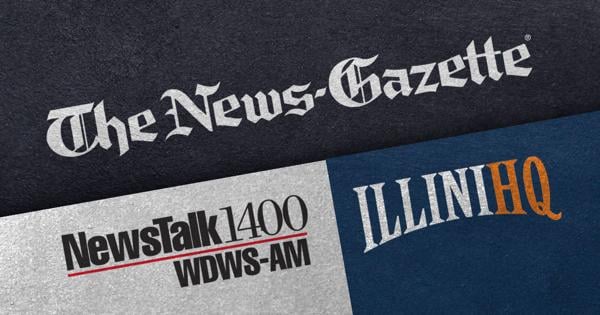 'Super frustrating' night ends Bulldogs storybook season | Sports
HIGHLAND — Ivie Juarez's displeasure was so evident that the Mahomet-Seymour senior women's basketball player repeated herself to underline how she really felt.
"Super frustrating," Juarez said with a sigh Monday night. "Super frustrating."
Olivia Durbin created that feeling for her opponent.
Whenever a clutch shot was needed in the second half, Durbin — the Bethalto Civic Memorial junior guard — delivered with some flair. The daggers were costly, forcing the Bulldogs to absorb a 53-48 loss in the Class 3A Highland Super-Sectional.
Durbin buried five 3-pointers and scored 17 of his game-high 25 points over the past two quarters, each coming at inopportune times.
"In all timeouts, we looked at the scoreboard to see who had the majority of their points, and that was her," Juarez said after the Bulldogs' first super section appearance. "We just couldn't find her. We couldn't stop him.
Trailing 26-13 at halftime, the Bulldogs (30-5) converted three points on their first two possessions in the second half against the Eagles (32-4).
Durbin calmly responded to the run with straight threes that nullified the rally attempt for MS.
After the Bulldogs cut the deficit to 32-26 after Juarez's two fouls with three minutes and 31 seconds left in the third quarter, Durbin connected on another key three-pointer.
"It's Liv," said Civic Memorial coach Mike Arbuthnot, whose team faces Mundelein Carmel in a Class 3A state semifinal Friday morning at Redbird Arena in Normal. "I see it from her all the time. She's a great shooter and she wants the ball. No matter the score or the time, she wants the ball.
In the fourth quarter, Durbin remained clutch.
MS was within 36-32 before Durbin extended the Bulldogs' deficit with a three-pointer with 5:37 left in regulation. Mahomet-Seymour countered with a Cayla Koerner triple, only to watch the match as Durbin fired once more.
Juarez's comeback with 4:26 remaining was nullified by another three-pointer from Durbin. One possession later, Durbin hit a 16-footer that pushed the lead to 46-38 with 3:41 to go.
"We knew she was going to hit some shots," Mahomet-Seymour coach Garret Risley said.
The Bulldogs just couldn't find her.
"Just as we got up," Juarez said, "she hit a punch.
There's a reason Durbin is constantly hitting clutch shots.
Civic Memorial was playing their sixth game at Highland this season, each coming since Jan. 15. Durbin has averaged 16.4 points in the previous five games — all wins — and shot 48.7 percent (19 of 39) from beyond the three-point arc.
Durbin added seven more three-point shots in the super section.
"I feel good here," Durbin said. "I am comfortable in this gymnasium. Everything is perfect."
The Bulldogs went 46-42 with 1:45 remaining after Juarez's two free throws, but Civic Memorial converted five of its last seven free throw attempts to secure its first appearance in a state tournament.
The Durbin shoot provided the theater, but the Mahomet-Seymour first half set the stage. Bad shooting was the culprit, as the Bulldogs missed 14 of 20 shots in the first half and endured a 3:09 second-quarter drought to trail 13 points at intermission.
"We were obviously nervous," said Juarez, who scored a team-high 16 points. "We just needed to breathe, and we didn't."
Mahomet-Seymour ran with a 4-1 advantage before allowing the Eagles to finish the first quarter on a 12-2 run. Civic Memorial led the final 27:57 minutes of the game.
"The most important thing for us was not getting into a hole, so we had to expend all our energy to come back up," Risley said. "We would take two steps forward, three steps back. It was the whole game.
The three back steps usually came after a trey from Durbin.
"You climb and climb," Risley said, "and then she hits a 3."
Each foiled a Mahomet-Seymour rally.
"Some people might think they're not good shots, but they are," Arbuthnot said. "When she sits up and her feet are on the ground, she can knock them over."
Ridgeview falters in the super-cup. Coach Scot Ghere's Ridgeview women's basketball team suffered a 46-34 season-ending loss to Serena in the Class 1A Serena Super-Sectional on Monday night.
The Mustangs (25-9) had a very similar struggle to MS in that Ridgeview trailed the Huskers (33-2) by double digits at halftime, 24-12.
The difference was that Ridgeview didn't immediately close their deficit, still trailing 35-23 for three quarters. But the Mustangs offense came alive in the final eight minutes as they scored the first seven points of the period.
Serena, however, withstood the barrage and prevented Ridgeview from making its first state semifinal appearance since 2011. This group of Mustangs was led by seniors Peyton Rinkenberger, Morgan Donaldson, Delanie Wissmiller and Kendra Erwin, juniors Brinley Stevens , Annalyn Harper and Celbee Johnson and sophomore. Mackenzie Wesson.