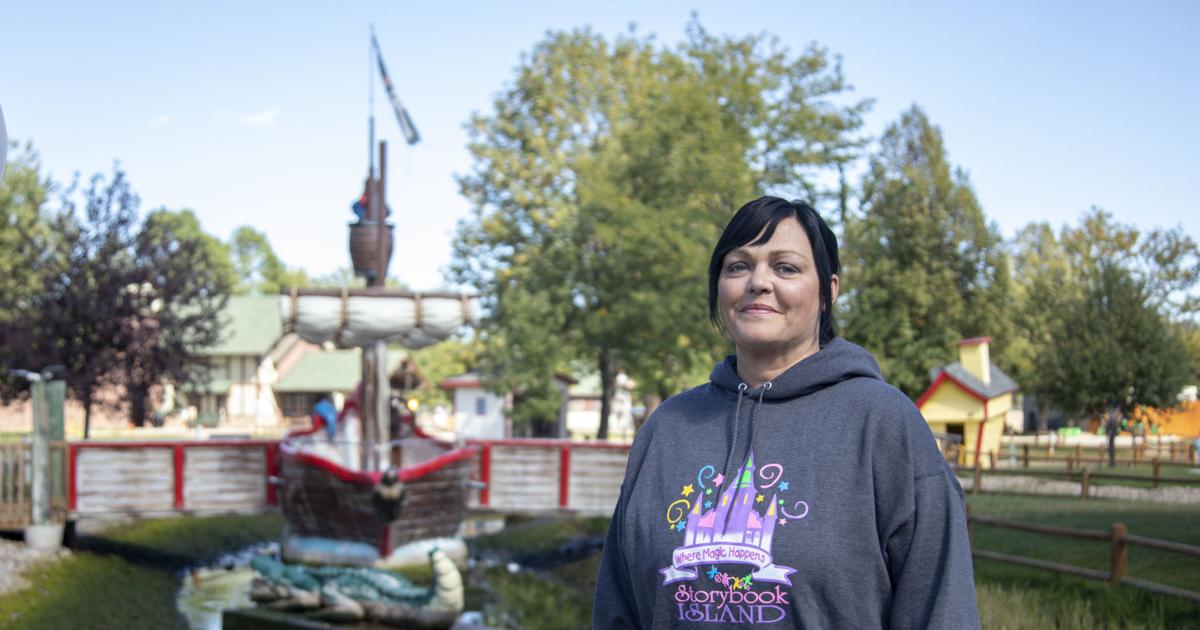 Storybook Island receives $50,000 for a playground for everyone | Local
Journal Staff Tanya Manus

Kids of all skill levels will have a new playground to explore next summer at Storybook Island. The children's amusement park received a $50,000 grant to purchase its first playground equipment for all abilities.
Six pieces of playground equipment will be installed by the time Storybook Island opens for its 2002 summer season. The equipment will be wheelchair accessible and will include sensory panels for children with autism and Braille signs for visually impaired children, according to Jackie Laws, executive director of Storybook Island.
Laws said that to his knowledge, this would be the first full stomping ground for all abilities at Rapid City.
The equipment is produced by Miracle, a company that specializes in making game pieces for all abilities.
The Black Hills Area Community Foundation presented the $50,000 grant to Storybook Island on Saturday, as part of the park's Adult Fun Night fundraiser. Storybook Island received the Community Action Grant from the Black Hills Area Community Foundation, which is presented annually.
"The large number of people this project will reach is very visible," said Liz Hamburg, CEO of the Black Hills Area Community Foundation. "This is something new for Storybook Island, which is a Black Hills icon. We're very Black Hills focused, so when we can work with an organization that makes us unique, that's always a plus.
"We're helping Storybook Island's ability to reach more kids (who can) participate in their playground," Hamburg said. "Each year, we are very proud to be able to have this kind of impact on local nonprofits. … A lot of good work is being done in the Black Hills.
The Storybook Island Adult Entertainment Night raised approximately $13,000. That money, along with community donations and the $50,000 grant, will all be used to purchase the six playground pieces for all abilities, Laws said.
"We're super excited about this," Laws said. "We want to continue to develop Storybook Island for future generations."
Laws said the park has seen a growing need for inclusive play equipment. Making the park more accessible fulfills Storybook Island's original mission when it was created in 1959 — to be a place where all children can play, Laws said. Previously, the park had an outdated wheelchair accessible swing set that could not accommodate electric wheelchairs.
Laws took over as chief executive in April following the retirement of longtime chief executive Connie LeZotte. One of Laws' first goals was to raise money for inclusive playground equipment. Fundraising began in May and will continue, Laws said. Ultimately, Laws hopes Storybook Island can purchase and install all-capacity rooms throughout the park.
Storybook Island is also constantly updating its existing playsets and hopes to add several new ones, some of which will be wheelchair accessible.
The park currently has a wish list of rooms that need upgrading: Smokey Bear, building and tower, $20,000; six sound towers, $3,200 each; 101 Dalmatians, $5,000; Aladdin, $3,500; Raggedy Ann, $2,000; Unicorn, $1,500; Barney, $3,200; Three Men in a Tub, $4,000; Billy Goats and Troll, $3,400; four spring toggles, $2,000; Ice cream slide, $8,000; Chicken, $2,500.
The park has a list of new items it hopes to add: sand diggers to replace the ones in the park now, plus a new wheelchair-accessible digger, $5,000; Hickory Dickory Dock Slide, $10,000; Crooked Man House, $10,000; Roo (Winnie The Poo character), $5,000; Raggedy Andy, $9,000; wheelchair accessible train car, $8,000.
Storybook Island accepts donations year-round to help offset the cost of maintaining and purchasing park equipment. For more information, contact Laws at Jackie@storybookisland.com.