Setting goals and dreaming big | Local News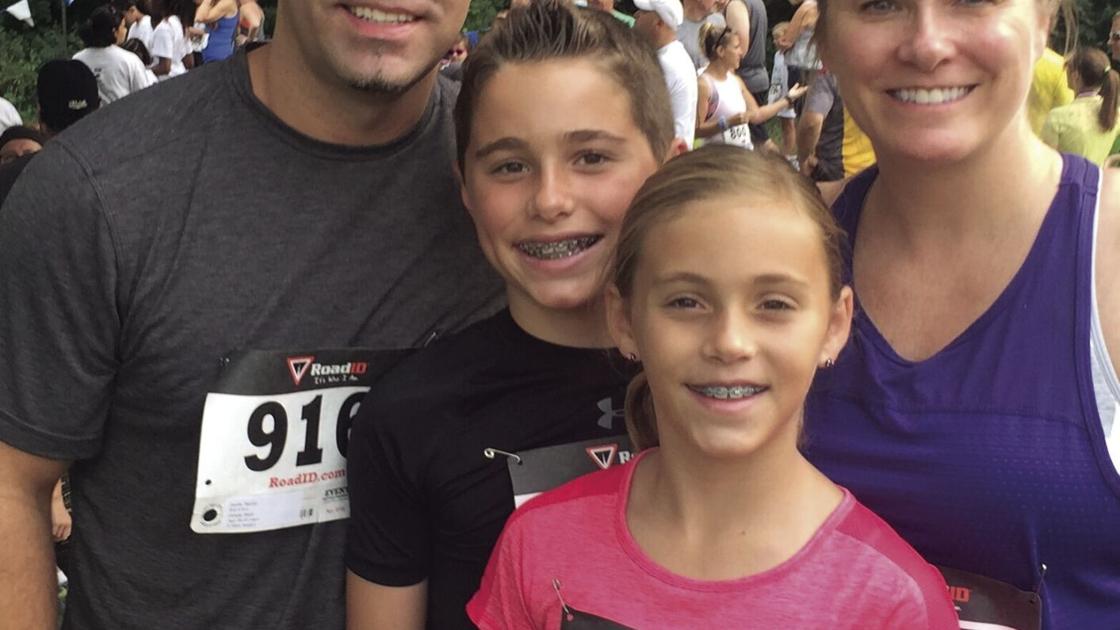 Look around Patrick Smith's office in Maple Grove Middle School and you will be inspired. Plastered on walls and his desk are quips reminding him and everyone who steps inside his office to dream big. Even his email responses end with the quote "Dream Big!"
But for Smith, an Osseo wrestling legend and now a middle school principal, that mantra is much more than two words said with enthusiasm. It encapsulates everything he believes in and what he wants his students to remember.
Growing up, Smith wanted to be like his older brothers. The youngest of four boys, Smith remembers going to watch his brothers' wrestling matches when he was very little. Along with his siblings, Smith's uncle was fully involved in the sport, coaching Smith and his brothers during their early years. "I was essentially born to be a wrestler," Smith said. "It was part of who I was from the very beginning."
So at age 5, Smith began his wrestling journey. As soon as he started competing regularly, Smith laid out a goal: to be a state champion. With the help of his uncle, Smith spent hours upon hours enveloped in the sport. During his high school years, Smith was a part of a dominant Osseo program that made it to the team portion of the state tournament each of his five years on varsity. But still, his goal was all he could think about. He would have dreams at night, vividly picturing what it would be like to be a state champion.
Then came his senior year. After setting a new record at Osseo for most career wins (165), Smith had one final chance to fulfill his childhood goal. And as the storybook ending would have it, he accomplished his dreams, becoming an individual state champion in 1994. "It was a dream come true, literally," Smith said. "It took me a while to come down from that. I couldn't sleep for a few days. It was surreal. "
After reaching the pinnacle of his dreams, people would ask Smith: what is next? Smith's answer: "I don't know."
His wrestling success led him to the University of Northern Iowa, where he wrestled for one year before transferring to Augsburg University. There, he was a member of the wrestling team that captured two national team titles, but then his knees gave out and eventually ended his competitive career. "It would have been cool to be a national champion," Smith said. "The fact that I never was? I'm okay with that. "
During his time in college, Smith looked for his next calling in life. Wrestling was fun and it brought him so many memories and life lessons, but what would his future career entail?
When Smith was on break from college after his freshman year, his uncle, who was a physical education teacher at St. Vincent De Paul Catholic School, asked if he would substitute teach for the PE class. Smith said sure. During a break from the class, a first-grade teacher brought her class outside to read and Smith, who was around at the time, sat down and read with the kids. He said at that moment, something clicked. "This is what I think I need to do," he said.
The next semester in college, he enrolled in education courses. After graduating with an education degree, Smith taught seven years in the Robbinsdale School District as a third- and fourth-grade teacher before transitioning into an instructional assistant role. While he was an IA, a principal asked Smith if he ever thought about working in administration. Like when he read to first graders, the idea stuck for Smith and went for his principal's license at St. Cloud State University.
When Smith's competitive wrestling career came to a close, his involvement in the sport did not. He coached after college for 10 years in the Robbinsdale district, including at Cooper High School for eight years. But when he became a principal, he decided to leave coaching behind. Soon after, whenever Osseo's head coaching job opened up, Smith occasionally thought, "If I weren't in the role I am in now, I would definitely go for that."
For Smith, coaching provides an outlet to work with kids, a passion of his. But the void of not coaching kids on the mat was replaced with being shoulder to shoulder with kids every day in school.
So when offers came his way to coach, he would say, "Nah, I'm good. I'm happy. " Smith got his first principal job at an elementary school in Robbinsdale and worked there for four years before being hired at Basswood Elementary School when it opened up. Six years later, he took an interim superintendent role in the Osseo School District, and in 2019, got hired at Maple Grove Middle School, where he currently works.
With last year being his first in secondary education, some may think it is a big jump from elementary school-aged kids. But Smith said he already knew roughly one-third of the middle school community from his time at Basswood. "I felt at home," he said.
The biggest challenge for the first-year middle school principal was not anything he could have expected or planned for: a global pandemic. Smith's new normal was in fact very abnormal. No concerts, student assemblies, after-school clubs, or regular interactions with staff and community members for most of the school year put a damper on Smith's welcome to secondary education. But with this fall expected to look a lot more normal, Smith can't wait for what he calls his first official year as principal.
"I am almost approaching this year as my first year at Maple Grove Middle," he said. "I am looking forward to the buzz being back in the building."
From his time as a wrestler, Smith has gained valuable lessons that have only helped his education career. "What I learned from the hard work and character you need to be as a wrestler, that is what built who I am today," he said. "That drove the motivation I have in life to be successful and work hard."
Practicing what he preaches, starting from his 5-year-old self, Smith has set goals for stages in his life. "You have to set goals … there is no goal too high. But that leads to your dreams. You gotta have dreams. Goals are those little points in life that say 'okay, I'm making progress towards my dream,' "Smith said.
Right now, Smith's goals are to be a great dad to his two kids, husband to his wife, and a principal to all the middle school kids he sees and loves on. "I want my students to look at me as someone they can trust and look back and say, 'man, he was always happy,'" he said. But as for future goals? "I love it at Maple Grove Middle," Smith said. "I see myself here for a very long time."
Copyright © 2021 at Sun Newspapers / APG Media of East Central Minnesota. Digital dissemination of this content without prior written consent is a violation of federal law and may be subject to legal action.