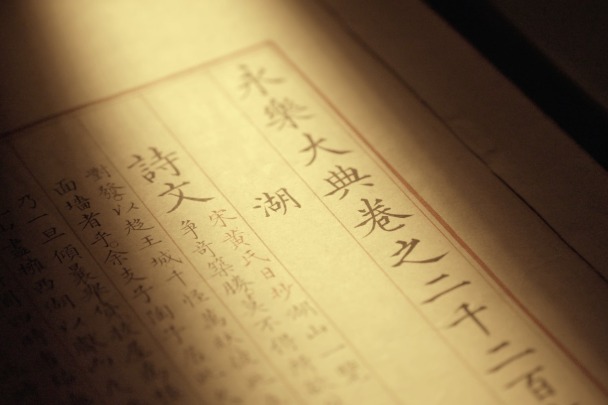 Repatriation of rare encyclopedia turns the page on restoration efforts
Coming across a Yongle Dadian set these days is something of a literary miracle.
First compiled in the early 15th century during the Ming Dynasty (1368-1644) following the Yongle Emperor's edict, this set of manuscript books is often considered the world's largest paper encyclopedia. The whole extends to approximately 370 million Chinese characters and consists of 22,937 volumes printed in 11,095 copies.
Only 400 copies are known to have survived, all copied from a 16th-century duplicate, as the whereabouts of the original are unknown.
So when a copy on the Chinese character hu ("lake") returned to its home country from Canada to be housed in the National Library of China in 2013, it sparked huge excitement among Chinese librarians.
"Any clues to find even one page of the Yongle Dadian would be great news," said Chen Hongyan, deputy director of the NLC's ancient books department. "This encyclopedia is a crucial testimony to the long lineage of Chinese culture."
Unlike modern printed encyclopedias, which may consist of concise explanations, a single entry in the Yongle Dadian may include long quotations or even entire ancient texts. As a result, many key books whose original editions have been lost remain accessible today.
Perhaps because its pages were too fragile to touch, the newly returned entry sat in library storage for several years while experts considered how best to preserve and share the national treasure.
Last year, the National Library, China Foundation for Cultural Heritage Preservation and internet giant ByteDance, the parent company of short video platform TikTok, or Douyin in China, jointly announced a plan to restore the document.
About 10 million yuan ($1.5 million) will be spent not only on restoring the text, but also on training restorers, digitizing the work, and creating related public education programs.
With the new National Antiquarian Book Directive emphasizing the importance of wider participation, the public is now encouraged to explore new ways of caring for antiquarian books.
"We want to use short video platforms to provide the general public with another way to grasp the cultural background of Yongle Dadian," Chu Yingxia, deputy secretary-general of the foundation and head of the ongoing project, told China Daily.
Chu noted that online platforms provide new outlets for scholars to more easily explain ancient texts.
"The original texts of ancient books are often obscure," Chu said. "But by using these platforms, we can explore how to apply the knowledge they contain to modern life, which will especially benefit the younger generation."
Since last year, the foundation has amassed 100 stories about protecting ancient books from around the country to post on short-video platforms. An online video project with the hashtag "Searching for the Keepers of Ancient Books" has proven popular with netizens. The associated music videos have been viewed 240 million times.
On March 18, Ancient Books Traveling Through Time and Space, a documentary featuring today's protectors of ancient books, was released online through the project. It attracted 34 million views in its first month of publication.
"The fruits of protecting cultural artifacts should be shared," Chu said. "Many conservation institutions face a lack of staff, capital and publicity. Now, thanks to online platforms, we can explore other ways to support their work."
"Only when all of society understands the need to protect ancient books will their importance be understood."