Raiders overtake Tigers, 58-20 | ETVarsity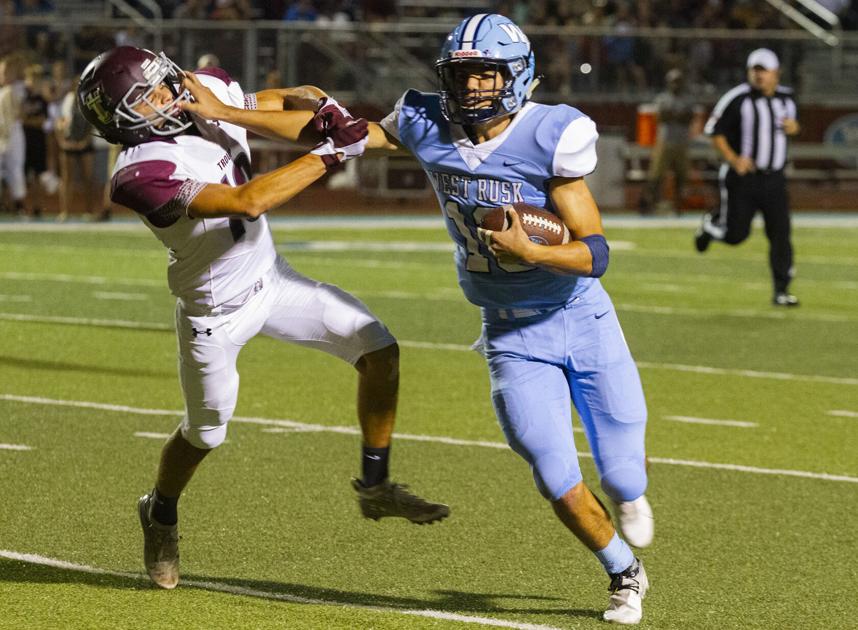 NEW LONDON – Andon Mata and Tate Winings both scored three touchdowns as No.7 West Rusk went undefeated with a 58-20 win over previously undefeated Troup in the District 9- opener. 3A Division II Friday night at Bruce Bradshaw Stadium.
Mata quickly started the scoring with a 69-yard TD just over a minute into the game. The extra point was blocked by Troup's Jovany Zavala to bring the score to 6-0.
In Troup's first melee play, Grayson Hearon was intercepted by Noah Murphy. In the next play, Mata threw a 24-yard pass to Will Jackson to give the Raiders a 13-0 lead with 10:28 on the clock.
Two plays later, it was another interception as Wesley Griffin picked up the pass and sent it back for 19 yards to Troup 19.
The Tigers' defense turned up high, stopping the Raiders in fourth place inside the red zone.
In the dying minute of the first quarter, West Rusk got his third interception as Geremiah Smith caught the pass.
Troup entered the board with 8:05 left in the second quarter on a 3-yard run from Hearon to reduce the score to 13-7.
West Rusk came back straight away with an 8-yard touchdown from Mata to take a 20-7 lead.
Winings found the end zone for the first time with 2:12 on the clock at 2 meters following a 72-meter run from Jamal Ford before John Barton made the tackle that saved the touchdown. Mata started the 2-point conversion for Clayton Keith to bring the score to 28-7 at halftime.
Troup got the ball first in the second half and was forced to kick a clearance. The Raiders missed the ball on the return, and it was picked up by Zavala. Troup entered the 10-yard line but was stopped on the fourth down. Two plays later, Charles Boyd got an interception and Trae Davis called with a 41-yard touchdown.
With Troup closing in and West Rusk forcing a fourth down, the Raiders knew they had to shake things up. West Rusk faked a punt and Mata's pass to Jackson was just enough to land a first down. The Raiders turned that into a 67-yard, 14-game drive that lasted almost seven minutes and ended with a 6-yard touchdown from Winings to bring the score to 35-14 heading into the fourth quarter.
West Rusk scored on a 26-yard drive from Mata with 9:12 to go. After a Griffin fumble, Winings hit a 26-yard touchdown to quickly increase the score to 49-14.
Troup then got a 33-yard touchdown from Davis. Xander Mason blocked the extra point and Ty Harper flipped it the other way to put the score at 51-20 with 4:11 to go. Murphy added a 6-yard touchdown rush in the last minute.
West Rusk finished with 503 yards. Ford ran for 164 yards on 15 carries. Mata had eight carries for 126 yards and Winings added 81 yards on 10 carries. Mata also threw for 91 yards and a touchdown on 11 of 17 passes.
Davis carried the ball 22 times for 150 yards and two touchdowns for Troup. Hearon finished 13 of 28 for 142 yards.
Troup (4-1) will host rival Arp next week. West Rusk (5-0) will play Arp on October 8.