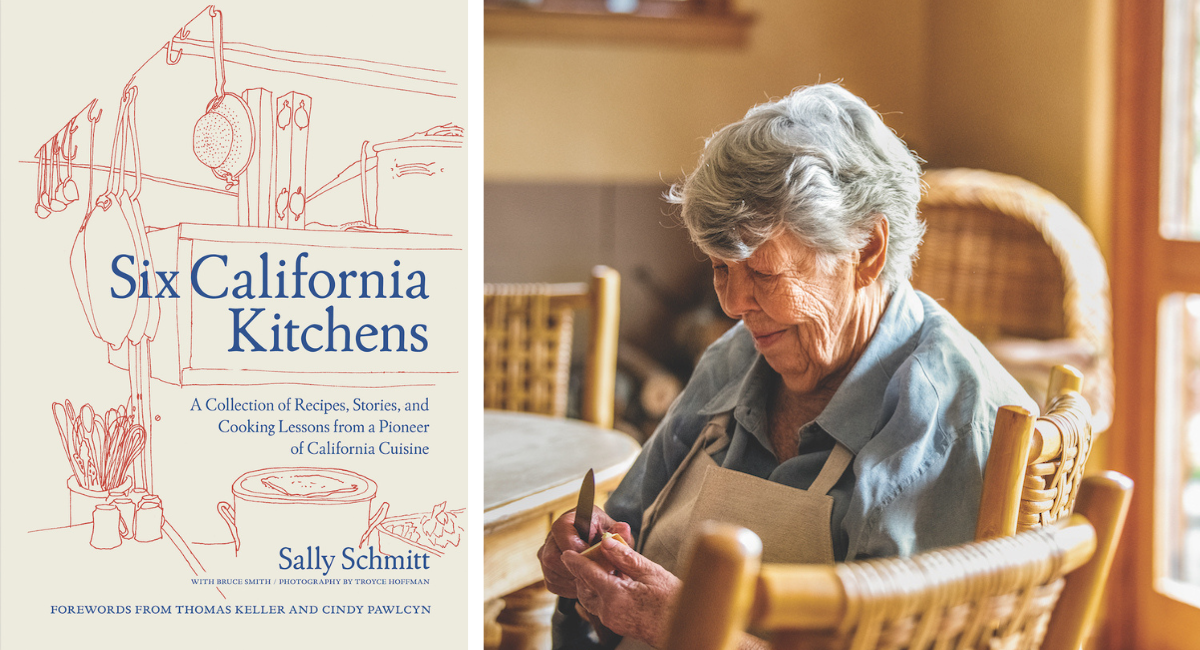 Our French connection – Sally Schmitt
Editor's Note: This story appears in the March/April 2022 issue. Sally Schmitt died March 5 at age 90, shortly after the article was published.
* * * * * *
As Sally Schmitt puts it, The French Laundry – the highly acclaimed Yountville restaurant that she and her late husband Don founded in 1978 in a dilapidated stone and wood building that had once been, yes, a French steam laundry, but also a saloon and a brothel – has its genesis in Citrus Heights, where it grew up on its family's farm.
"I grew up tasting real fruits and vegetables," says Schmitt, a newly minted nonagenarian and an early believer in what would become the farm-to-fork gospel. "Having a garden has taught me to let fruits and vegetables grow before I pick them." She does it now on her farm in Mendocino County, which includes an apple farm and the seventh major kitchen the housewife-turned-restaurateur has ever cooked in, which means she's fresh out of her new memoir, Six California Kitchenswhich is slated for release on April 5.
A second-generation Californian, Schmitt slowly simmers a rich story for the reader through wholesome threads and heartfelt family recipes that have made appearances, in one form or another, in the book's titular kitchens, including three Wine Country restaurants. . The French Laundry ranks fourth in Schmitt's timeline. "It was a very, very happy time," she writes of the restaurant's humble beginnings.
But at the head of the 352-page culinary diary is her family's beloved Citrus Heights kitchen, where her mother cooked mostly from memory and only used notes and recipes cut from newspapers and magazines to cook and cook. make desserts. "I don't remember her cooking from cookbooks," Schmitt notes.
Tales and Recipes from the Sacramento Valley – from bumper crop green beans traded on credit at the local grocery store, to apricot jam made with ripe, just green fruit from the family farm's two Royal Blenheim trees, to the cheese cookie dough gods, oddly nicknamed after her grandfather's country slang for mule droppings (the shape of the pastry was reminiscent of it) – laid the foundation for her pioneering career in the kitchen. Schmitt credits her home economics studies at UC Davis with giving her the confidence to experiment with new recipes. "My lab classes at Davis were helpful to me," she writes.
In his foreword to Six California Kitchens, revered chef Thomas Keller, who bought The French Laundry from the Schmitts in 1994, observes, "There was nothing grand about Sally's food. His repertoire employed Gallic touches but also drew on elements dear to Americana: tomato soup, braised oxtails and cranberry and apple kuchen. Once a year, her three-Michelin-starred restaurant offers a prix-fixe meal to neighbors in Yountville with dishes from Sally's original menus.
Although Schmitt might be considered an unsung heroine of California cuisine, her farm-born modesty gives her life story the kind of authenticity and salt-of-the-earth charm that our modern society seems to crave. As Keller writes, "We can all learn from Sally and her approach to food, not to mention her approach to life."