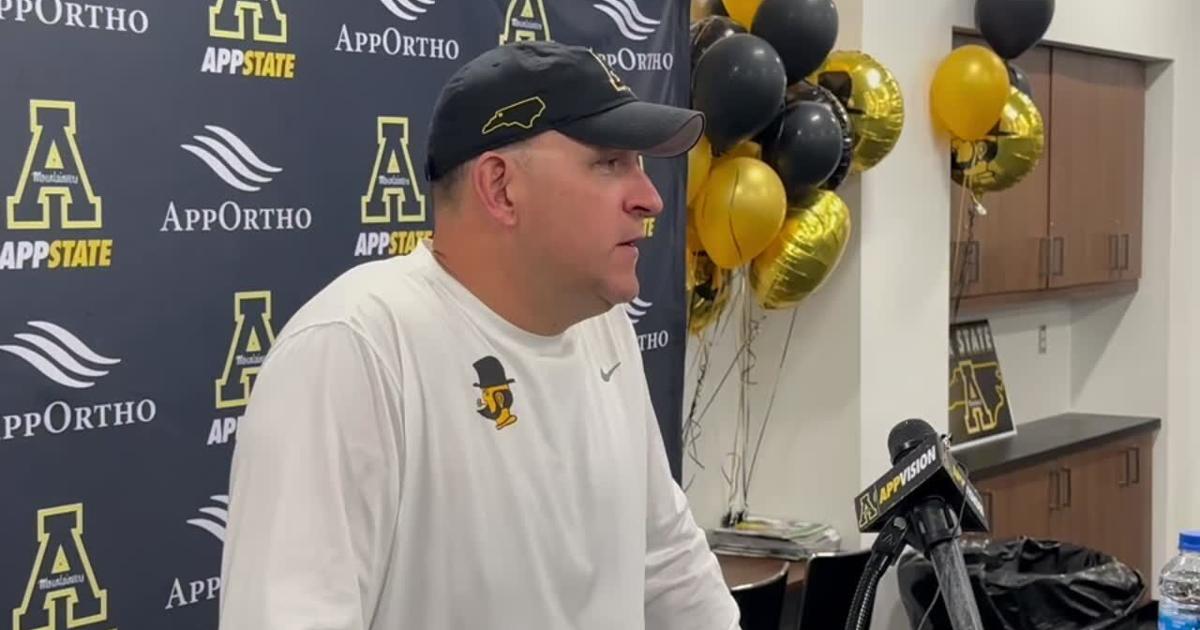 Mountaineer's Miracle: Col Hail Mary Gives App State Storybook Ending With Special Weekend | Local News
Tom Foreman Jr. Journal Special

BOONE — It wasn't a wing and a prayer that led Appalachia State to a last-minute triumph on Saturday. Granted, it was a Hail Mary, but they had planned it, and against Troy it worked as they practiced.
"They call it God's Country for a reason," coach Shawn Clark said after the 32-28 win. "A big part of that is our players. They never give up.
On a very eventful day in which the Mountaineers were celebrated for what they did at Texas A&M a week ago, the Trojans took a 28-24 lead with 10:10 to play. Appalachian State fell nearly 9 minutes behind on the ensuing drive, reaching the Trojans 2 before missing a fourth pass to the end zone.
Troy couldn't get a first down, and quarterback Gunnar Watson left the back of the end zone for what was believed to be a game-winning safety. As happened in the North Carolina game, some Appalachian State fans were headed for the exits.
There were 20 seconds left and when the Mountaineers took the kick, they had 15 seconds to at least get into the shooting zone. But Chase Brice threw three misses. Of their own 47, there were two other picks, including one they managed to practice.
Clark said the way they drafted it, Dalton Stroman was the designated receiver to get up in the air and get his hands on it. Then he would pass the ball back to Christian Horn, and Kaedin Robinson had to throw the block that would send Horn into the end zone.
The 6-foot-4 Stroman is mounted, challenged by a Trojan defender. Stroman tipped the ball to Horn, who grabbed the ball, circled to his left, got a shield block from Robinson and ran to the front corner of the end zone.
"Executing practices is the reality of game days," Clark said. "And our children took it to heart."
Brice said he went through a range of emotions before feeling a range of reactions.
"I threw, and I look. I pray," he said. "I see the tip, and I see Christian coming, grab it in his breadbasket and I'm like, 'There's nobody, there's nobody!'"
Brice says he started running towards the end zone and then started handing out high-fives. He even helped the students out of the stands to join in the celebration. He even went to friends who played for Troy and told them that they played their hearts out.
Horn said the Mountaineers weren't in an ideal situation, "but we made it."
"Just the rehearsal in practice," he said. "Every day we try to implement these games and do what we have to do."
Appalachia State trailed 14-7 because Troy's offense was able to head the ball and make big plays in the passing game. But the climbers seemed to regain their balance as they covered 75 yards in 12 games and consumed 7 minutes and 21 seconds to level the score at 14. Seemingly unfazed, Troy needed that many games to cover that many yards, but in just 1:22 to regain the lead when the clock hit zero for the first half.
The Rock hummed, but with whispers of doubt. Troy was chosen to finish third in the Sun Belt Conference West Division, while Appalachia State was chosen to win the East Division. But it didn't play out that way.
But in the end, it worked really well for the state of Appalachia. Just as they were training.
The Game Day team
ESPN "College GameDay" hosts Pat McAfee and Kirk Herbstreit leave a building near their set on the App State campus after taking a break on Saturday…
Crowd of applications
Crowds of students and fans thronged App State's Sanford Mall on Saturday morning as ESPN's "College GameDay" broadcast from campus.
Take the field by storm
After the final touchdown, App State fans storm the field.
match day
A crowd of fans gather during ESPN's filming of "College GameDay" on the campus of Appalachian State University.
match day
Desmond Howard and Rece Davis on the set of "College GameDay" at Appalachian State University on Saturday.
Thousands of fans storm the field after Appalachian State's 32-28 win over Troy.
Cheerleaders app
The Appalachian State cheerleaders gather for a photo during ESPN's "College GameDay" event. Appalachian State was scheduled to face Troy on Saturday.
App Status Fans
Young Appalachian State University fans hold a GameDay sign during ESPN's "College GameDay" event on Saturday.
WATCH NOW: App State coach Shawn Clark describes the excitement of having ESPN's 'College GameDay' hosting the game
WATCH NOW: WR Christian Horn talks about the final game of the winning match against Troy
WATCH NOW: Appalachian State QB Chase Brice talks about the final moments of the game
WATCH NOW: Appalachian State QB Chase Brice: 'Everyone has to be ready'