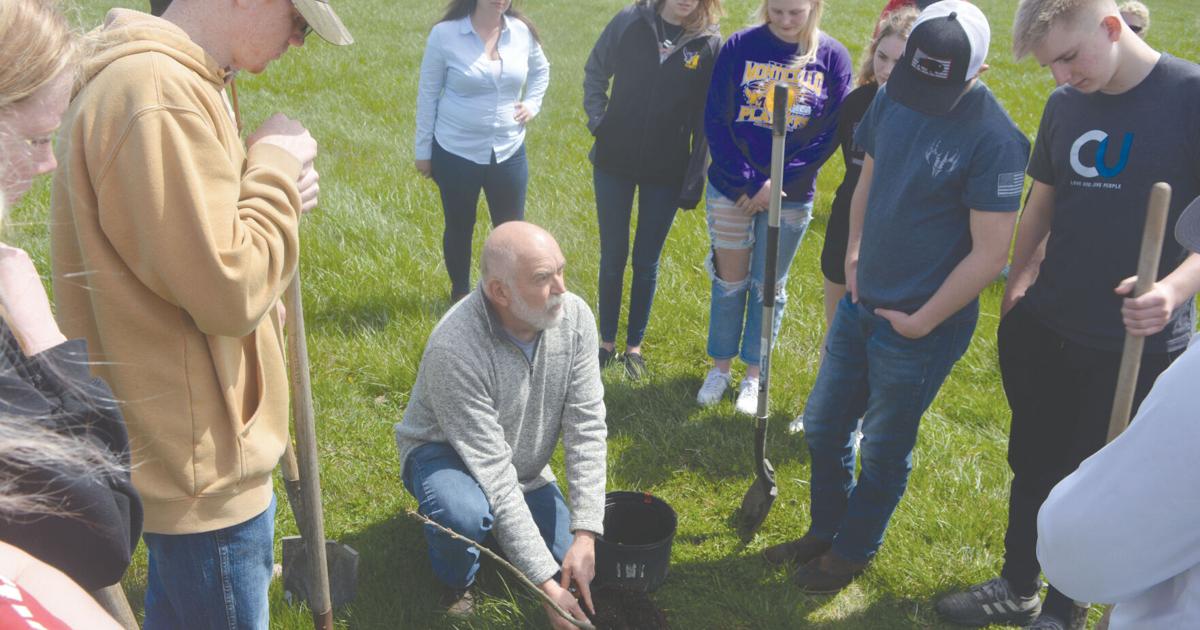 Make Monticello a little greener | Local News
MONTICELLO – Max Kinder was the first to grab a shovel.
"A shovel in one hand and a spade in the other," he said immediately after getting out of a van carrying 17 members of Monticello High School's conservation management class. "That's how I made my money last summer."
Max and his classmates planted 24 oak trees at Monticello United Methodist Church on Thursday, as part of the 4-H Green Communities Tree program.
"I know how to dig holes," Kinder said, "and I want to help make a difference."
Class members are also 4-H and FFA members, said 4-H youth development educator Jamie Boas.
"They learned about land conservation practices and the importance of tree savannahs here in Illinois," she said. "We are thrilled that they have this hands-on opportunity to make a difference in the community."
Illinois once had 14 million acres of trees, but that number has dropped to five million due to modern development practices. The church was chosen as a public place where all members of the community could enjoy the trees.
"Right now it's not much to watch and we can't enjoy it," said MHS senior Cal Spence. "But I could come here and tell my kids that I helped plant those trees someday."
Curt Sinclair, 4-H Youth Development Extension Specialist Curt Sinclair demonstrated how to plant the trees. He told them the importance of the roots and keeping them loose so they wouldn't choke the tree after planting.
"They're a wonderful group to work with," he said. "It worked very well with the conservation management class. The children are ready to work hard and really care about this project.
A total of 31 soil and water conservation districts coordinated with their county extension offices for the program. A $10,000 grant was used to purchase 775 trees statewide.
"These oaks are important and becoming rare," Sinclair said.
The students said they were happy to help.
"It helps the community and I really can't wait to see what it will look like in the future," said Wyatt Kenyon, a senior. "You can take wedding photos here, relax in the shade and when you enter Monticello from this direction it will be beautiful."
"I really appreciate the opportunity to be outside and work with the plants and trees," added Lana Derosset, another elder. "Being able to plant the tree yourself instead of just reading about it in a book in a classroom is very special. It's a different experience and I'm enjoying it.
Elizabeth Rost is the teacher of the conservation management class.
"We talk a lot about forestry and trees and the importance of planting trees," she said. "But it's so important to have an opportunity like this where they can come and listen to experts and do it themselves. It teaches them a life skill and one day they will be able to plant trees in their homes.
Spending time in Allerton
Students also use Allerton Park as a field school to supplement their school curriculum.
Rost's class will visit Allerton eight to 10 times this spring, learning from natural areas managers Nate Beccue and Alex Lourash.
"Throughout the year, we have studied topics in the field of conservation and outdoor recreation. And now it's like our field experience. At the start of the year we had a forestry unit, and now we're here looking at the trees," Rost said.
For example, students learned on an April 19 hike about invasive species and managing deer herds, along with other tidbits that included facts about everything from woodpeckers to the habits of turkey buzzards near the Allerton house.
"It gets them out to see what's here. I wish I had taken a class like this in high school," Beccue said.
Students learned of the tremendous efforts that have been made since 2004 to bring deer numbers to a point where they can survive and the forest would not suffer.
There were about 730 deer in Allerton in 2004, which equates to about 163 per square mile, far more than the 10 to 30 per square mile, which contributes to uncertain of a herd's sustainability.
At first, archery and shotgun hunting was allowed to reduce the herd to between 150 and 250. Nowadays, only archery hunts are allowed for seven weeks each year.
Those wishing to participate must volunteer for 30 hours at Allerton, doing jobs ranging from managing invasive species to assisting with event parking.
"It's a big help for us, and a big help for them (bow hunters)," Lourash told high school students.
Beccue estimates that around 30-35 deer are harvested from Allerton forests.
Other topics covered on field trips to the park include energy sustainability, bird watching, and even a unit on how researchers study snakes that inhabit the prairie. Binoculars are available for students who wish to get a closer look on spring hikes.
"We try to always move and report things," Beccue added.
"It's amazing," Rost said. "Also, to have Nate and Alex know a lot more than I do, so it calls for experts to take things to the next level for kids."
This is the second year that the Conservation Management class has spent time at Allerton. Rost said she got the idea while visiting Okaw Valley High School.
"Their students work with the engineering corps and go out and manage land there, which sparked the idea that we should do that too," she said.