Local rider chosen as finalist for magazine cover | Local News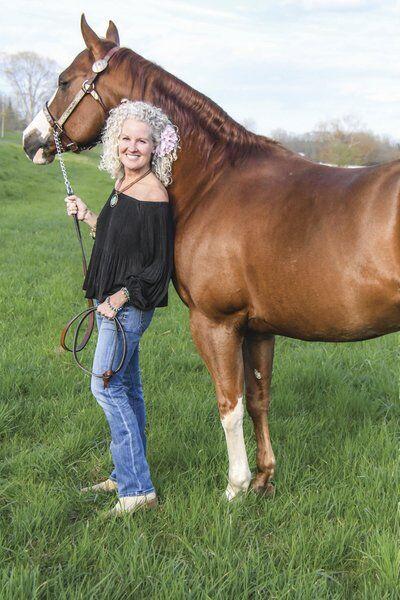 Linn Dann, from Sidney, got back in the saddle this spring.
The 52-year-old hairstylist entered a contest to be featured on the winter cover of Chrome Magazine, a publication of the American Paint Horse Association, in late spring. According to apha.com, the magazine aims to "promote, preserve and provide meaningful experiences with painting horses". The APHA, said Jessican Hein, director of publications, is an international horse registry headquartered in Fort Worth, Texas.
The competition, Hein said, was launched in 2014 to "actively feature APHA members in (the) publication."
"The winter issue includes a western fashion section each year," she said, "and we thought that choosing our APHA members as models would be a great way to showcase our members and their talents. "
Dann learned last month that she was one of 12 finalists in the competition, which Hein says typically sees both national and international participants. This year, Hein noted, the finalists traveled from New York to Idaho and approximately 1,500 votes were cast. Voting was open to the public for a week, Dann said, and closed on June 6.
Although the two entrants with the most votes were announced earlier this week, Dann said she was "shocked" to be in the Top 12. The winners, she noted, will travel to Fort Worth. for a final shoot in September, although all finalists are invited. participate.
Dann said it was his love of horses and Chrome Magazine that spurred his entry.
"When I was young we owned a paint horse – it's a black, brown and white horse – named Squirt and I've always loved to ride it," she said. "I've always loved horses, I've always been drawn to horses, and I've always believed in fate and that things come to you for a reason, people come your way for a reason.
"I'm a hairdresser and last summer I had to do my hair for a wedding," continued Dann, who runs a booth at E-Clips in Sidney. "I found out the girl was from outside Bainbridge and owned horses and we got along well. I started talking and asked him if I could go out and ride. I made an appointment and I went out to ride… and I said, "I would like to take pictures with some of your horses. So I ended up doing that and made (the photos) my Christmas cards last year. I went out on a very cold November day and one of the girls I worked with said she would take the photos with her iPhone and they turned out to be lovely. I was so happy with them. I had several people say, "Linn, they are so good, you should send them to a horse magazine" and that's when a light bulb came on and I thought, "I subscribe to Chrome. You know what, maybe I'll get into one of these photos when the contest takes place in the spring. ""
Dann said that once engaged with the idea, she took additional photos in a professional manner. Competitors, she noted, ranged from 18 to 63 years old and included both men and women. Participants were also required to submit personal essays detailing "what makes you unique," she said.
"I was really like 'what am I going to write?'" She said. "I am not glitzy. But I said I was a hairdresser in a small country town, and although small in stature, I had a heart and dreams that were larger than life. I have said that one of my goals with clients is to always listen to them, encourage them and inspire them. I love people and I love hearing their stories, their experiences and what makes them tick, so I'm always looking for inspiration, and one of the things that inspired me is Chrome Magazine. Chrome did this for me in several ways. I really had the love of horses in me from the age of 6, then after a long hiatus from riding and an inner desire, I got back into the saddle.
"I thought maybe they would think I was trying to butter them up saying that," Dann continued, "but it's so true. The stories and photos in this magazine are gorgeous; I could sit down. and watch it forever.
To learn more, visit apha.com/publications/chromemagazine