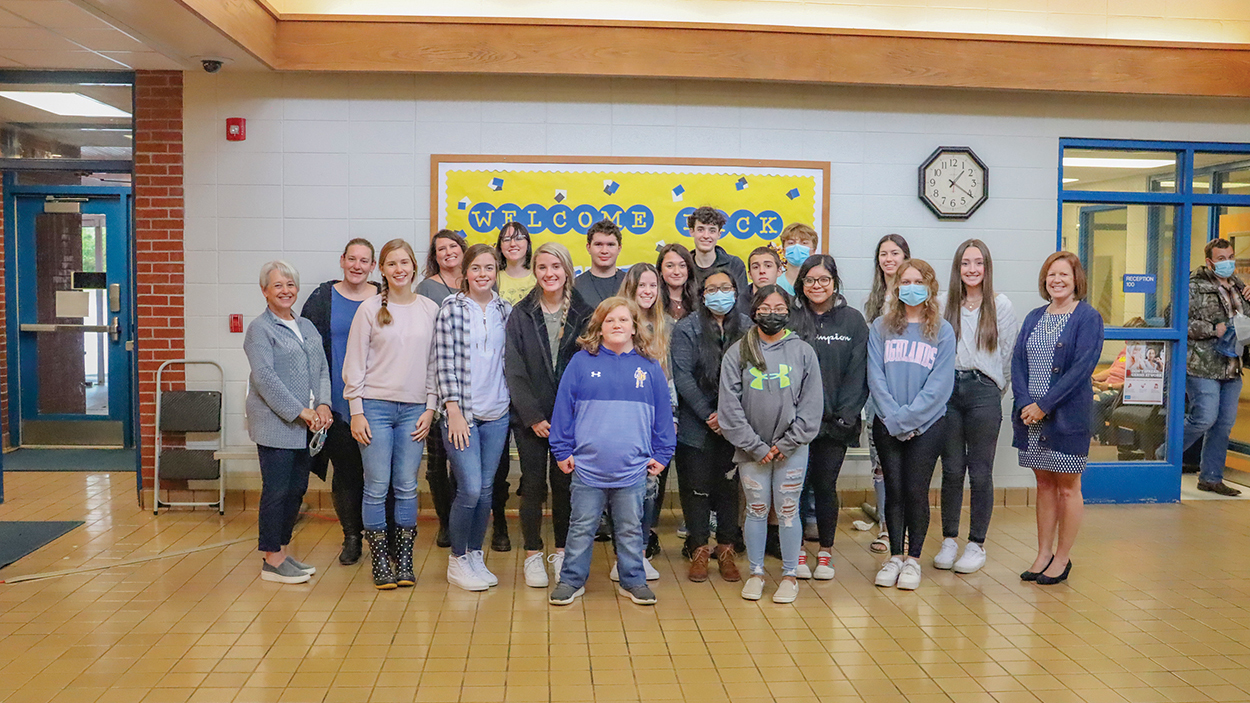 Interaction is interaction | Laurel Magazine
Written by: Deena Bouknight | Publish: March-2022
For Highlands Rotarian Tracy Franklin, connecting with students is key to healthy communities.
---
LnRiLWNvbnRhaW5lcltkYXRhLXRvb2xzZXQtYmxvY2tzLWNvbnRhaW5lcj0iMGQxNDkzYzBjZWM1YzQyMmRiMzNlOTc2NmZjYTFmZDciXSB7IHBhZGRpbmc6IDEwcHggNDBweCAxMHB4IDQwcHg7IH0gLnRiLWNvbnRhaW5lcltkYXRhLXRvb2xzZXQtYmxvY2tzLWNvbnRhaW5lcj0iZWQzODMyYWE2MjAxY2JlYzViMWU1YjkwMmRjMDY3ZTIiXSB7IHBhZGRpbmc6IDI1cHg7IH0gLnRiLWJ1dHRvbltkYXRhLXRvb2xzZXQtYmxvY2tzLWJ1dHRvbj0iZTVkMGMwYWZjZWM1ZWRiOTA5MWEwMGU3Zjc2ZmJjODkiXSAudGItYnV0dG9uX19saW5rIHsgYmFja2dyb3VuZC1jb2xvcjogcmdiYSggMTU5LCA4MiwgNTcsIDEgKTtib3JkZXItcmFkaXVzOiAwO2NvbG9yOiByZ2JhKCAyNTUsIDI1NSwgMjU1LCAxICk7Zm9udC1zaXplOiAxMnB4O2xpbmUtaGVpZ2h0OiAxMHB4O3RleHQtdHJhbnNmb3JtOiB1cHBlcmNhc2U7Y29sb3I6IHJnYmEoIDI1NSwgMjU1LCAyNTUsIDEgKTsgfSAudGItYnV0dG9uW2RhdGEtdG9vbHNldC1ibG9ja3MtYnV0dG9uPSJlNWQwYzBhZmNlYzVlZGI5MDkxYTAwZTdmNzZmYmM4OSJdIC50Yi1idXR0b25fX2ljb24geyBmb250LWZhbWlseTogZGFzaGljb25zO21hcmdpbi1yaWdodDogNXB4OyB9IC50Yi1idXR0b25bZGF0YS10b29sc2V0LWJsb2Nrcy1idXR0b249ImU1ZDBjMGFmY2VjNWVkYjkwOTFhMDBlN2Y3NmZiYzg5Il0gLnRiLWJ1dHRvbl9faWNvbjo6YmVmb3JlIHsgY29udGVudDogJ1xmNTA4JzsgfSAudGItZmllbGRbZGF0YS10b29sc2V0LWJsb2Nrcy1maWVsZD0iZTk1NDE4ZjgxYmZmMjFjMzQ1OTZkYjY2MjhmNDVlYjIiXSBhIHsgdGV4dC1kZWNvcmF0aW9uOiBub25lOyB9ICBbZGF0YS10b29sc2V0LWJsb2Nrcy1pbWFnZT0iZjI5MTJiODMzZDM1MjEzYmNiOGM3MzhlZGMwZjU5ZTciXSB7IG1heC13aWR0aDogMTAwJTsgfSAudGItZmllbGRzLWFuZC10ZXh0W2RhdGEtdG9vbHNldC1ibG9ja3MtZmllbGRzLWFuZC10ZXh0PSI4YmFhZjBmOTZlZGYzMzJkZTg4MmRmZDIzNDVkZjYzMiJdIHsgbWFyZ2luLXRvcDogMDtwYWRkaW5nLXRvcDogMDsgfSBAbWVkaWEgb25seSBzY3JlZW4gYW5kIChtYXgtd2lkdGg6IDc4MXB4KSB7IC50Yi1maWVsZFtkYXRhLXRvb2xzZXQtYmxvY2tzLWZpZWxkPSJlOTU0MThmODFiZmYyMWMzNDU5NmRiNjYyOGY0NWViMiJdIGEgeyB0ZXh0LWRlY29yYXRpb246IG5vbmU7IH0gICB9IEBtZWRpYSBvbmx5IHNjcmVlbiBhbmQgKG1heC13aWR0aDogNTk5cHgpIHsgLnRiLWZpZWxkW2RhdGEtdG9vbHNldC1ibG9ja3MtZmllbGQ9ImU5NTQxOGY4MWJmZjIxYzM0NTk2ZGI2NjI4ZjQ1ZWIyIl0gYSB7IHRleHQtZGVjb3JhdGlvbjogbm9uZTsgfSAgIH0g
Mental health counselor Tracy Franklin is involved with the Rotary Club of Highlands in part because of her involvement with area students and her support of schools.
Her father, Tom Stribling, is a longtime member and Tracy knew that Rotarians were very involved in the community. When she joined the club, she and her father became the first father/daughter duo.
What quickly became near and dear to his heart four years ago was the Interact club at Highlands High School. She is the liaison between the Rotary Club of Highlands and Interact, which is essentially the high school branch of Rotary – giving approximately 20 students the opportunity to learn early about the importance of Rotary and serving their community.
The Rotary Club of Highlands donates $1,000 a year to Interact, and students involved receive tuition
scholarship opportunities.
"We're very student-friendly in this field," Franklin said. "We've provided iPads, dictionaries, books and more – whatever schools tell us students need, we try to make it happen."
But on the other hand, Interact students give back. Franklin commented on community projects:
Fall Book Fair: "We buy book fair books for children who couldn't afford them."
Distribution of Halloween candies: "Interact members are collecting sweets from the Highland Chamber of Commerce and handing them out to every shop/restaurant/office on Main Street."
Distribution of Halloween hot dogs
Shop with a Cop: "The Interact students work with agents and helped the kids pick out the gifts they wanted."
Distribution of alumni: "Interact sends a care package of peppermint bark to seniors from the previous year."
In February, Interact cleared and cleaned the Rotary/Boy Scout attic in the Community Building. "And this spring we plan to help the Highlands/Cashiers Humane Society and help the Greenway or the Land Trust maintain some trails."
For its annual international-related project, Franklin pointed out that the Interact club chose to donate $500 to Team Trees/Team Seas, which supports tree planting and sea cleanups around the world. .
Anna Stiehler, Junior of Highlands High School, President of Interact 2021-22, said, "The Interact club is a great way to get involved not only in our school, but also in the community. We have built many relationships and new acquaintances, all based around this group.
by Deena Bouknight