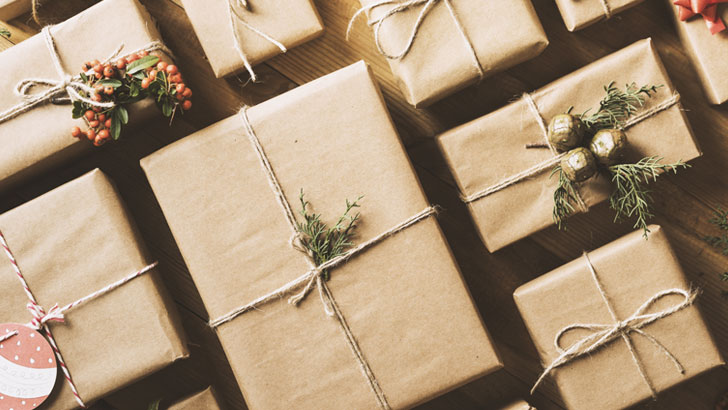 How to start preparing now for a sustainable Christmas
Christmas. Present. Tear off the wrapping paper and enjoy receiving the items – only for the interest to fade within days (or sometimes hours).
Many of us like to be generous at Christmas. We love to see our children's faces light up with joy when they receive something they included in their letter to Santa. We love giving special gifts to a spouse or significant other. (Christmas is also one of the most popular times to give engagement rings.) And then there are gifts for teachers, coworkers, staff, and others you might want to thank.
The problem is that many of these gifts are wasted. According to The Australia Institute, nearly a third of Australians will receive a gift they never use. The total value of these unwanted gifts is $980 million, or nearly $1 billion. And a lot of that ends up in the landfill, along with all the other Christmas-related paraphernalia.
How to reverse this trend? A great way is to focus on Christmas sustainability. Here are seven tips for an amazing, joyful and lasting season.
1. Food, glorious food
Who doesn't love food, especially at Christmas? Even if you don't indulge yourself, you're probably entertaining, so food gifts will come in handy.
"Food giveaways are a great option if you're looking [the budget]and also a big favorite for teachers, grandparents, and anyone who says, 'Oh, you've got nothing to bring me,'" says decluttering and organization coach Lauren Winzar.
She suggests items like gingerbread, fudge or chocolates, baked goods, a mix of dry ingredients with a handwritten recipe, and flavored popcorn (with a favorite DVD attached).
Each year, Mia Swainson, author of Happy Planet Living: Simple Ways to Live a Climate Positive Lifestyle and Make a Big Difference, picks with love the fruits of her vegetable garden and makes jams and marmalades. His preserves are a work of art sought after by family and friends – and perfect for Boxing Day brunch.
2. Support a local author
Buy a book. Yes, making a book involves resources.
But physical books can be read and re-read, offered and sold. Or you can gift a certificate to an online store such as Booktopia which includes e-books.
The creatives have worked hard over the past few years and need your support. And many titles promote sustainability – and also help improve financial literacy.
3. Experiments
What to give someone who has everything? Probably not more stuff, which could lead to more clutter.
Winzar suggests giving experiences.
"The gifts least likely to be left in the dust or pushed to the back of a closet are expendable experiences," she says.
From movie tickets to movie subscriptions and even sites like Redballoon, there are plenty of ways to deliver experiences to people. Even better: organize an experience where you can do something together to build your relationship by enjoying something together.
4. Shop Op
Would you, could you buy gifts from an op store? I did this for many, many years. And I will do it again.
Many operation stores even have Christmas displays with gift items ready for purchase. I often find unique items that aren't easy to get in retail stores – often brand new. And once something is beautifully packaged, it will look so special that no one will even know you bought it for a bargain.
5. Gift wrapping
If you've ever cleaned up after Christmas Day, you know there's a lot of paper and packing material. And unfortunately, much of it is not sustainable. This shiny, sparkly wrapper may look great under the Christmas tree, but it's destined to sit in a landfill for many years to come once the Christmas sparkle loses its magic.
I like to use plain brown kraft paper. I embellish it with ribbons (leftovers from other gifts), or tie it with plain twine and decorate with fresh ivy.
We also write the recipient's name directly on the paper rather than using glittery gift cards (which usually fall out anyway). You can also use children's artwork that they have lost interest in – they may even be proud to use it. Or embrace the Japanese tradition of wrapping with fabric.
6. The sustainable table
We often want our Christmas table to be a bit special, especially if we are hosting people we may not have seen in a while.
But before you go out and spend a fortune on shiny new things you might only use once, consider some durable options. Could you make your own sweets?
Rather than receiving pieces of plastic toys they'll soon tire of, create your own with small tokens of things found at ops stores or elsewhere. Invest in quality Christmas decorations and reuse them every year.
Or buy used tree and table decorations. And celebrate the season by incorporating seasonal flowers (eg hydrangeas or agapanthus).
Christmas is a season of joy. The best gifts have meaning. And the best events are those where people come together with joy. And what could be more joyful than to celebrate sustainably?
Get stories like this in our newsletters.