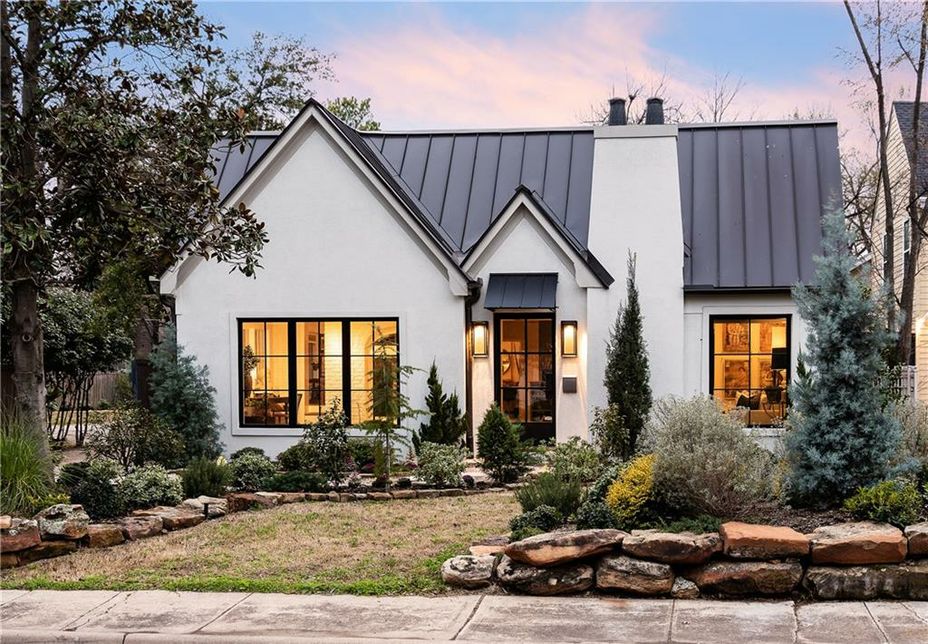 Hot property: A modern, storybook-worthy Tudor in Bluffview
Built in 1928, that Bluffview Tudor is both surprisingly elegant and timelessly traditional. The exterior beckons with storybook-inspired landscaping and a stone-lined path, while the facade stands tall with an angular metal roof and precisely shaped windows. It reads like a seamless blend of old and new, neither flashy nor kitsch, but undeniably eye-catching.
With clean lines, dark metal accents, and high-quality lighting, the interior of this home would look stunning no matter what furnishings its new tenants have. Even the most generic sofas and rugs would feel instantly uplifted, and the muted neutral colors would find harmony with the crisp white walls. But this house is made to take more. And while we often say homes are "perfect canvases" for decorating, never has the sentiment been truer than at 8505 Blue Bonnet. The house could be a haven for a well-travelled elderly couple, whose collection of international art and world prints would feel both comfortably at home and purposefully showcased. It could also be ideal for a young bachelor with a growing art collection, whose masculine mahogany decor would marry any art he exhibits, whether he prefers modern paintings in punchy frames or landscapes. serene in traditional gold or wood. And in a way, it's also perfect for an art-loving family, whose gallery walls of prints and pieces could rest comfortably next to finger paintings and masterpieces by primary school.
Start exploring and you'll find tastefully updated rooms at every turn. The kitchen features metallic gray cabinetry, copper metal hardware and pendant lights, and a steel blue tile backsplash. Multiple nooks provide space for a compact study, reading hideaway, or small entertainment area. An angular attic bedroom would be an elegant space for a child's room or a guest sanctuary. Outside, the professionally landscaped backyard features raised beds, a fire pit, and several beautifully gnarled old trees (one of which has a strong branch that begs for a swing).
To anyone who moves into this magnificent home: invite us to admire the interior shape you create. We already know it will be a masterpiece.