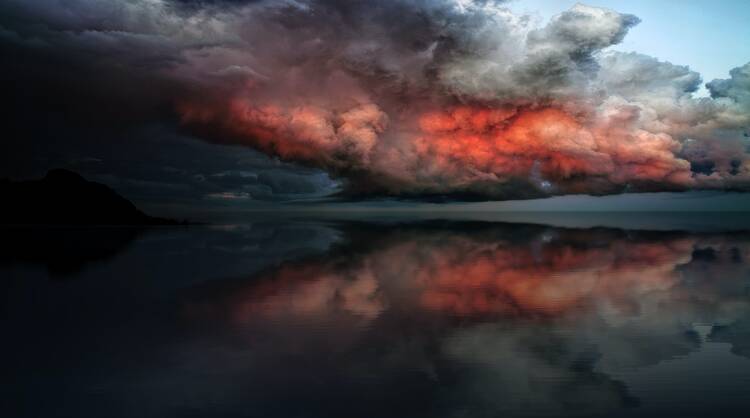 God can handle your anger
A Reflection for Friday of the Twenty-Sixth Week in Ordinary Time
Have you ever in your life ordered in the morning
and shown at dawn its place
To seize the ends of the earth,
until the wicked are shaken from its surface? (Job 38:12-13)
The theme of today's readings seems to be "Who do you think you are?" In the Gospel, Jesus chastises all those who have seen the works of the Lord but refuse to recognize their importance. And in the first reading, God tears Job apart for complaining about the sufferings he endured.
This is not an easy message! Particularly in the first reading, God seems like a very bad guy. He allowed Satan to first destroy Job's livelihood and then kill his whole family as a test of humanity's ability to remain faithful, then when questioned by Job, the best he can say is, "Who are you to question me?" It's pretty much the ancient deity's equivalent of "Because I said so," and the kind of response we have every right to get upset about. If we believe that God made a promise to be there for his people (and this is the heart of the Old Testament story, and our own faith too), he must do much better than that.
In any meaningful relationship, sometimes taking the risk to say what you really think and feel is in itself the way out of the wilderness.
Believe it or not, the book of Job actually represented an evolution of Jewish thought on suffering. Prior to Job and some other wisdom literature, suffering was understood as an indication of wrongdoing. If you got sick, died in childbirth, or had a series of other terrible misfortunes, you must have committed some kind of serious sin. Your pain was on you.
But Job does nothing wrong; in fact, he is first presented as "blameless and upright". (Job 1:1) Rather than being our fault, suffering is understood as something that happens sometimes. This is the truth that God is meant to express in our reading, albeit in a very poor way: Why does suffering happen? Who knows? It's just.
If this reality angers us, or if Job's God's "Shut up and eat your breakfast" tone infuriates us, well, maybe that's a good thing. Most of us have been taught that being angry with God is taboo, at least a sin and at worst "Look down because lightning is coming" dangerous. But we've had tough times, some of us really tough times, or we've seen people we love being ravaged by disease or addiction in ways that just seem cruel or malicious. It is natural in these times to turn to God, whom we hear again and again at church is there for us, loves us, walks with us, and asks, "Well? What about? Where are you now that we really need you?
We also do it in good company. In the Gospels of Mark and Matthew, Jesus himself looks up from the cross to marvel at the absence of God.
Will God have a better answer to our questions than to Job? I would like to hope so, given how we see Jesus treating people in the Gospels. But like in any meaningful relationship, sometimes taking the risk to say what you really think and feel is in itself the way out of the wilderness. What is shared is no longer carried alone; in fact, it is often published.