For the Tolliver sisters, the road to success has been paved with 9 degrees from the state of Ohio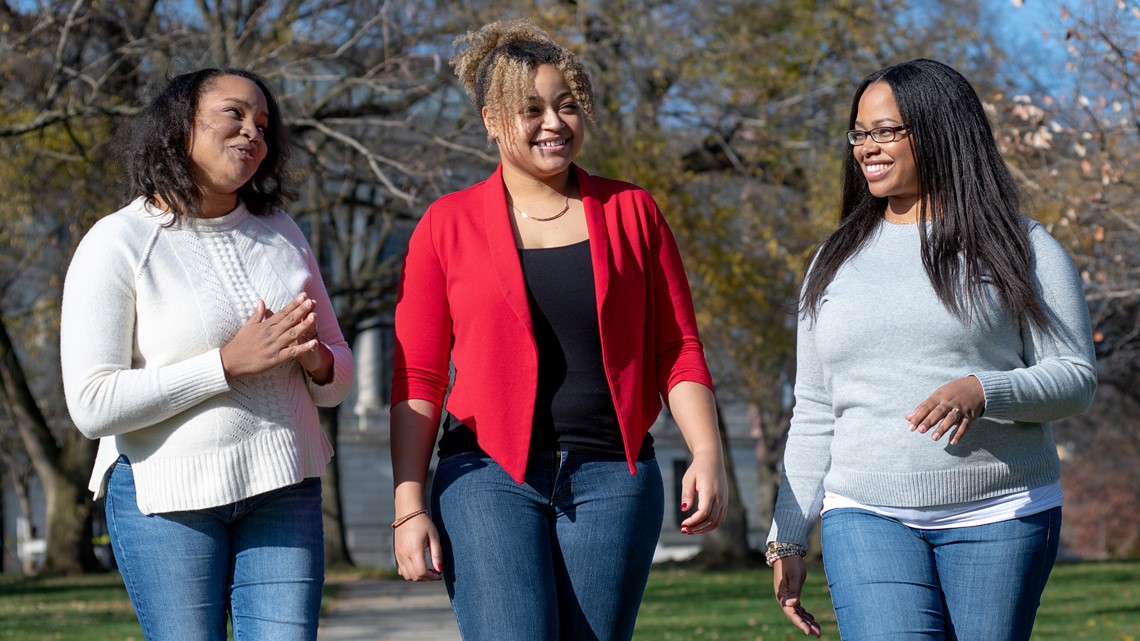 Sophia, Sylvia and Starling Tolliver grew up outside of Akron in difficult financial conditions. But they found a common escape route: Ohio State University.
COLUMBUS, Ohio – Sometimes it just takes a spark of hope to be successful.
Ask the Tolliver sisters.
Sophia, Sylvia and Starling Tolliver grew up near Akron under difficult financial conditions.
"We grew up in poverty," said Sophia Tolliver. "We were poor. We didn't always know where the next meal was going to come from. There were sometimes threats of eviction. Sometimes public services have been cut. When we were in elementary school and they had the canned food drive, we were the family that took advantage. So we know what it's like to not know where your next meal is coming from, and I think that in us, that spurred us to do better.
The three sisters all thank their mothers for inspiring them to seek an education, even when times are tough.
Sophia remembers learning from an Encyclopedia Britannica which had probably been bought from a thrift store. She also often shared a single pair of jeans with Sylvia, who was only 11 months her junior.
"There wasn't that much violence," Sylvia said. "It was just this poverty that dominated you, and it dictated, to some extent, your opportunities, your network and your resources and where you went."
For Starling, the experience was a little different. She is over a decade younger than her sisters. But his mother's influence was the same.
"My mom, just like them, was very adamant that I was getting my education, but, for me, it just came a little easier, so I think it's mainly my motivation, my motivation, it was easy for me, so I was going to go that route, "Star said.
This path would end up having a common denominator for all, and an important denominator for that.
All three would eventually be accepted into the Ohio State University Young Investigator program.
"If you were to successfully complete the program all through high school, graduate, you would get a full ride to the state of Ohio, and that's what happened," said Sophia. "So it happened to me, it happened to Sylvia, and it happened 13 years later, it happened to Star."
It would end up being a life changing experience for the three of them and lead them all on the path to success.
"Answering that question for us at 12 was a burden on my mom, on all of us," Sylvia said. "It was a mental health boost for us because it didn't matter that I was the skinny, awkward little girl who was a nerd in bad clothes because I was always going to go to Ohio state. There was nothing stopping me. At 12, when you step into your identity as a young girl, to have that solid, as part of what you can hope for in the future, the effects are immeasurable. Because it meant something to me, I might not have anything in this present world, but I had something in the future that I could hang my hat on.
All three sisters maintained their high averages throughout school and were offered this free ride to OSU. But their rise to success did not end there.
"It really gave my family more than we could ever give them in return, so I'm just grateful for what they were able to do for our family," Star said.
But the sisters did not stop at one degree each. They continued. They now share nine degrees among themselves.
"Thank goodness for the state of Ohio, thank you for everyone who was able to think of programs meant to impact vulnerable young people in Ohio in such a way that you have literally changed lives," with such a strategic push for resources and finances in Ohio's nine major cities, "Sophia Tolliver said.
And she got four of those nine degrees. She is now Dr. Sophia Tolliver, Clinical Assistant Professor and Doctor of Family Medicine at Ohio State University Wexner Medical Center's Outpatient Care East.
During this time, Star also pursued a career in medicine. She is completing her internship at the University of Rochester and will then move on to her residency.
Sylvia chose the legal path. Before stepping back from formal practice, she worked in the United States Attorney's Office for the Southern District of Ohio, the Office of the Secretary of State for Ohio, the Supreme Court of 'Ohio and in private practice.
The three sisters hope their story of struggle and success will make an impact on others. And they've already invested time in mentoring others, which will surely continue.
"There are children, young people, who, through no fault of their own, simply because they were born perhaps in the wrong place, at the wrong time, quote, not quote, are not able to succeed, even though they are performing very well, but the state of Ohio came and took us out of this circumstance, I got a little goosebumps right now, I came and ripped us out of this circumstance, and watching us right now, "Sylvia said. "And all we want to do is tell the whole world, tell the whole world."