Deadline Approaches for Written and Art Submissions to North Coast Magazine | Community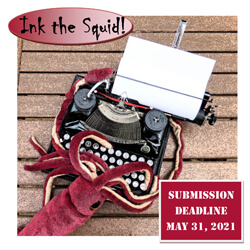 The Hoffman Center for the Arts will release the eighth edition of the North Coast Squid in October 2021 and is now accepting writing and art submissions until May 31.
The 72-page literary magazine features the work of writers and artists who live on the North Oregon Coast or have a close connection to the region. The magazine includes works of poetry, non-fiction, including memoirs and fiction.
As in previous years, submissions will be selected for publication based on blind judgment by renowned authors and poets: Margaret Chula for poetry; Apricot Irving for non-fiction; and Deb Vanasse for fiction.
Chula lived in Japan for 12 years where she taught creative writing and published seven collections of poetry. She now lives in Portland, Oregon, where she continues to teach and give workshops at universities, poetry societies and Zen centers.
Irving is the author of "The Gospel of the Trees," a lyrical meditation on the ecology, loss and tangled history of the missions in Haiti, winner of the 2019 Sarah Winnemucca Prize for Creative Non-Fiction. She is also the recipient of a Rona Jaffe Foundation Writers' Award and a Creative Writing Fellowship. She lives in the Columbia River Gorge.
Vanasse is the author of over a dozen books, many of which are set in Alaska. His works for children include six picture books and two novels for young adults. After thirty-six years in Alaska, Vanasse now lives on the north coast of Oregon.
Illustrations and photographs, selected for publication by the Squid editorial team, will be used throughout the magazine and on its cover.
Submit online at hoffmanarts.org. A $ 3 fee is charged for submissions in each category, with the exception of "Young Writers" (18 and under) which are free. Full guidelines can be found on the submission page.
Between now and the submission deadline, writers can hone their skills at the Hoffman Center's writing fair, which is held online every Tuesday morning. Visit hoffmanarts.org for more information about the center or its programs.
Back issues of the North Coast Squid can be purchased for $ 10 at the Hoffman Gallery, Manzanita News and Espresso, and Cloud and Leaf Bookstore.