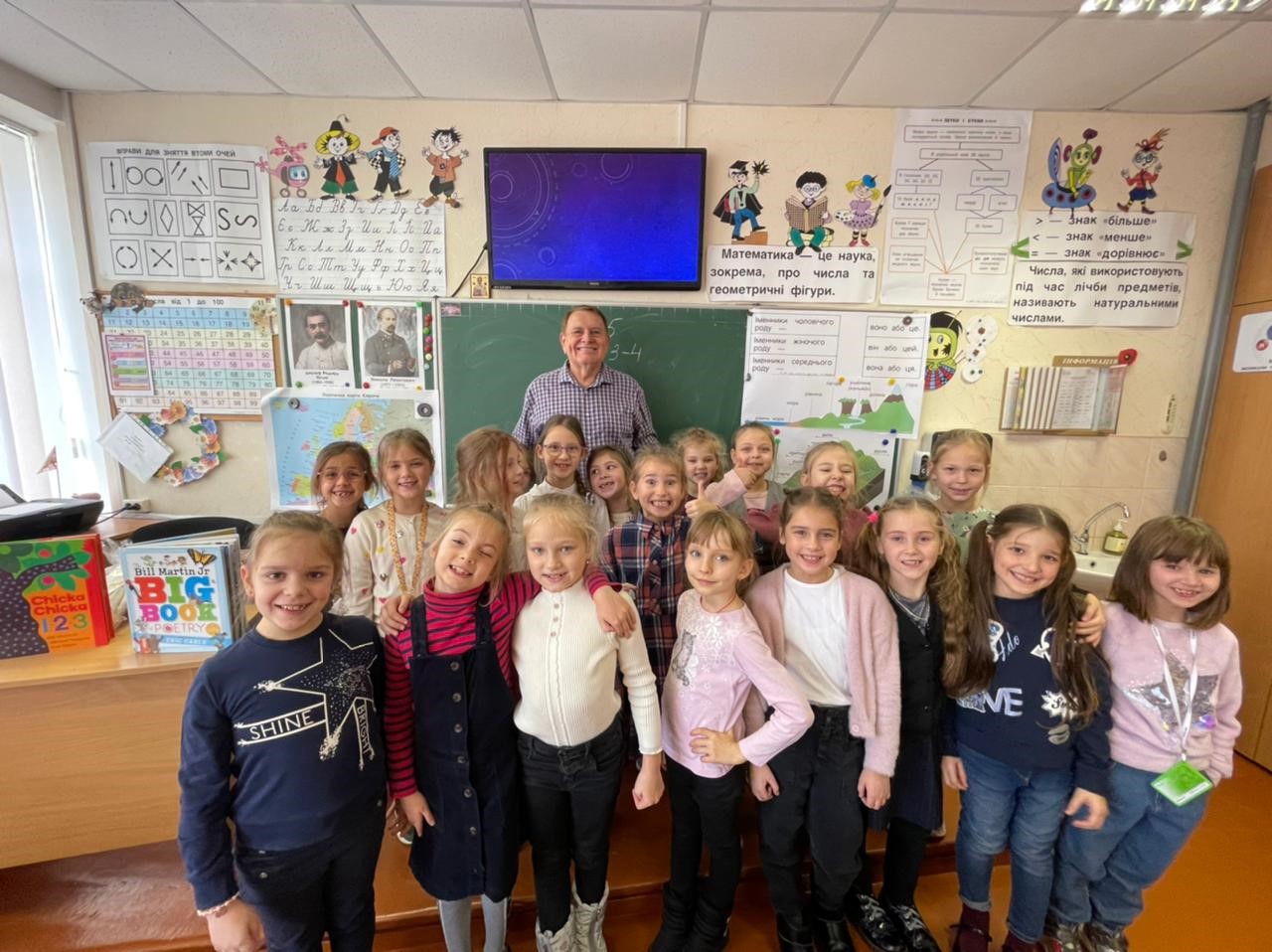 Children's author Michael Sampson helps Ukrainian refugees in Poland
The co-author of Chick, Chick 1, 2, 3 and other titles taught in Ukraine on a Fulbright scholarship before moving to Warsaw, where he now helps resettle Ukrainian refugees.
It was another sleepless night for children's author Michael Sampson. These days, he jumps with every text message and remains agitated with worry and guilt.
Michael Sampson's friend sent him a photo of himself,
his wife and cat in an air-raid shelter.
All photos courtesy of Michael Sampson
"I have a warm apartment with food and water, and I shudder to think of the children and parents in Ukraine who may not have gas or electricity and are surrounded by the noises and the hammering of war and Russian forces," Sampson wrote in an email to SLJ from an apartment in Warsaw, Poland, where he was transferred from his Fulbright Scholar assignment in Dnipro, Ukraine. "I wake up with every text message, frightened by new negative developments in the war. All my Fulbright colleagues report the same. We worry about our friends back home and feel guilty for not being there to support them. »
Sampson had spoken with SLJ the day before. But come morning he had more to share – more thoughts on the war, more news from those who are still in Ukraine or who have just fled, more hope that telling these stories might somehow help. 'another one.
The author, who has co-authored numerous books with Bill Martin Jr., including Chick Chick 1, 2, 3, Bill Martin Jr's Big Book of Poetryand the next armadillo antics— chose Ukraine as a Fulbright location because his wife's family is from there. She and their 12-year-old daughter joined him in Dnipro.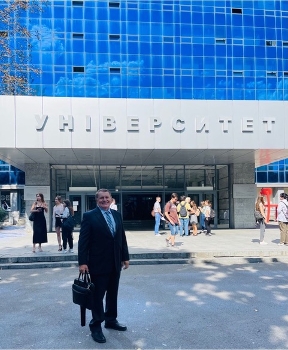 Sampson on his first day at Dnipro
National University of Ukraine.
In Ukraine, Sampson taught a course at Dnipro National University. As part of his research project, he also worked with teachers and children in grades two through eight to teach English with new strategies he developed using children's books. Throughout his time in Ukraine and now in Poland, he has also taught an online course at St. John's University.
In November, Sampson grew concerned when the US State Department issued warnings about Russian troops assembling along the Ukrainian border. But the Ukrainians he knew were not concerned. Troops had been there since Russia annexed Crimea in 2014, they told him; nothing would happen.
But the US State Department thought otherwise and on January 24 withdrew Fulbright scholars from Ukraine. Russia invaded Ukraine about a month later. Now Sampson spends his time in Poland doing whatever he can to help Ukrainians.
The Fulbright group teaching in Ukraine had the option of returning home or going to Poland to do what they could to help Ukrainians. Only one of the 18 scholarship recipients chose to return home, according to Sampson, whose wife and daughter returned to New York. He and his wife often talk and text, as he tries to update her on the situation from there and calm her fears. While her mother is no longer in Ukraine, her brother remains as part of the Ukrainian effort to fight Russian forces.
"The citizens are all determined to repel the Russian invasion, so everyone is participating and helping so he is there, so she has a lot of worries," he said.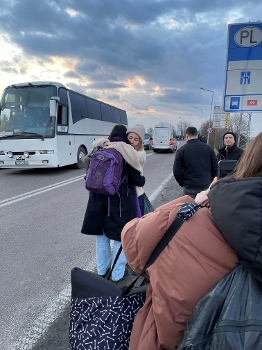 People kiss on the border between
Poland and Ukraine.
In Poland, Sampson is responsible for helping refugee families settle. He rents a car, drives the four hours to the border and then brings them back to Warsaw, installs them in an apartment, takes them shopping and puts them in contact with local resources. The people he sees have all arrived safely in Poland, but there is no celebration.
"They feel guilty, because family and friends are there and they're here," Sampson says. "They're safe, but they think they should be. [in Ukraine.] And so it's just, it's really a nightmare in terms of the feelings that they have and how they deal with it. And you know, and some people [tell them] "You should have stayed here and helped the war effort. It's hard."
So far, Sampson has helped five or six families get from the border to Warsaw. He continues to teach his class virtually at Dnipro National University, but the course format is not the only difference.
"The boys are actually in the army to fight the Russians, and the girls – a lot of them go to the hospital to be nurses and so on, because there are so many wounded soldiers," he says. .
But it's there on the other end of the Microsoft Teams connection for anyone who can show up and wants to learn or just talk.
"I think I work more as an advisor," Sampson says.
He spends much of his time texting and emailing people he knows who remain in Ukraine. His communications with elementary school teachers are heartbreaking, while offering hope for normal times to come when they can meet in peace. (The names of the educators in the text exchanges below have been changed.)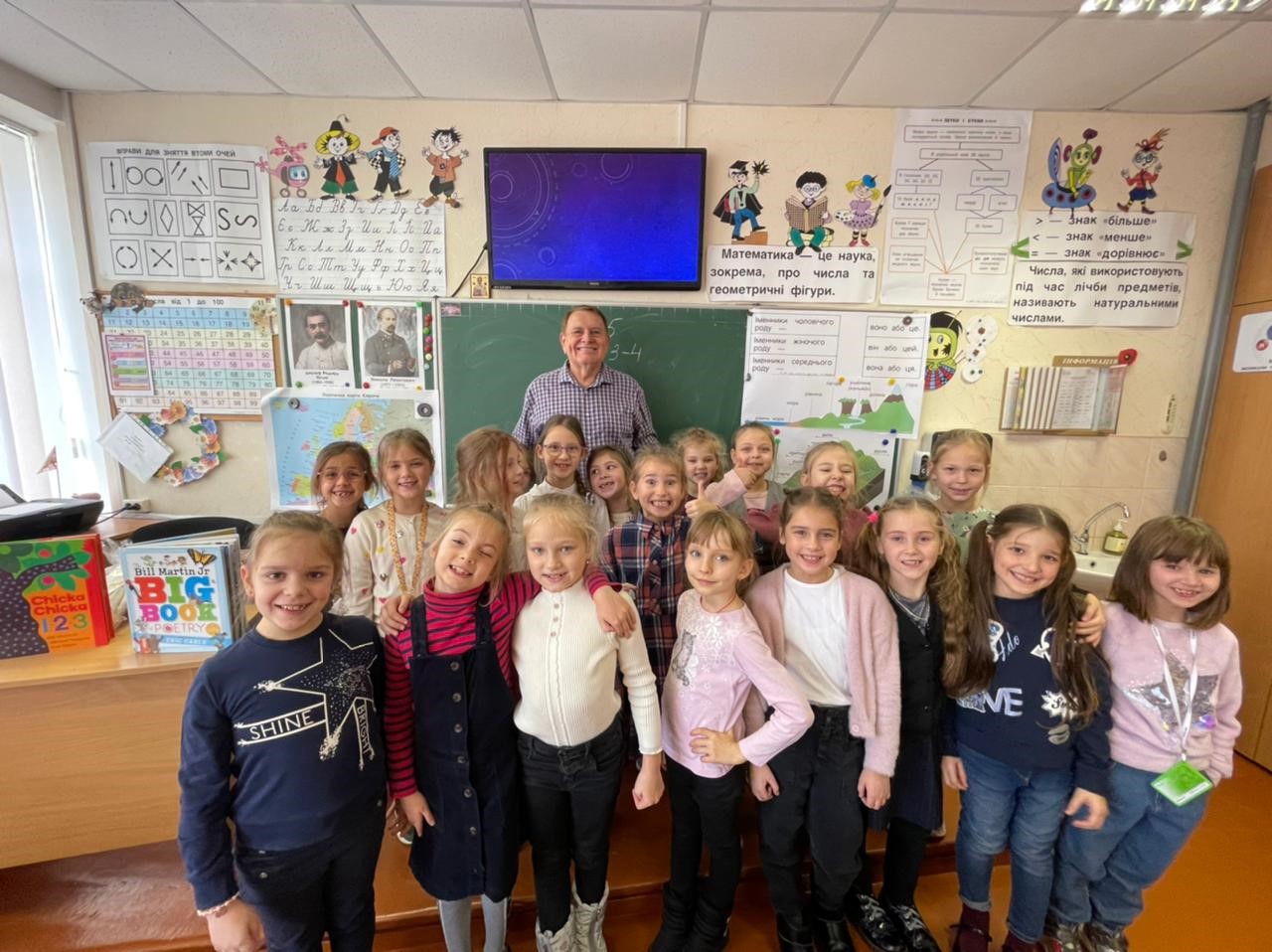 Sampson with students in Ukraine before the war.
A teacher stopped responding days before Sampson spoke with SLJ. As he worries about her and others, he continues to teach his online course at the National University of St. John's and Dnipro, as well as work on his books, which now include a project on Martin's life, something Sampson had wanted to do for years. but did not have time.
As he works on new titles, he can't help but think of the stories of the people around him and those still in Ukraine. In a recent conversation with a history professor at Michigan State University, they discussed a book about children and war.
"What would that look like? How to make it positive but realistic? Sampson said. "I'm sure there will be something that will come out of these experiences."
Sampson's Fulbright term ends on June 30, but he plans to return to the United States in April for an expected two-week term. armadillo antics book tour, including speaking at the Texas Library Association conference and the Los Angeles Times Festival of Books. In the meantime, Sampson is doing all he can to educate people in the United States about what's happening in Poland and Ukraine in hopes that people will be brought in to help however they can.
"All I can do now is help raise money for Ukraine and write about the horrors of war and what they face," he says. "I have a dream of peace and of returning to see the land and the people I have come to love."