Carrolyn Foster? S Book ?? Easy 8: The Big Event ?? Delights children of all ages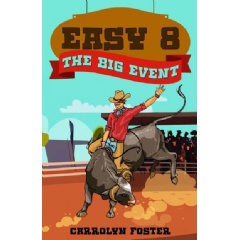 ?? Easy 8: The big event ?? written by Carrolyn Foster, is a tale of two Native American bulls performing in front of an audience dancing in honor of Mother Earth in an annual bull riding competition that is sure to delight children of all ages
Miami, Florida –
WEB WIRE
–
Friday, July 2, 2021
The story concerns an annual bull dancing event following the conclusion of an annual horseback riding competition. Each bull will attempt to achieve the highest score to win the Bull of the Year award. Winter Hawk and White Cloud are both Native American bulls who entertain spectators with their traditional dance in honor of Mother Earth.
As the bull riding competition begins, every cowboy in the event is ready to show off their horse riding prowess. Impatient and restless, the competitors did their best. Bulls, on the other hand, are eager to throw their riders as they show off their smoke-blowing, tail-slapping, and snot skills. Offer cowboys the option of staying and hanging on for eight seconds (or less) in the saddle long enough to win. The flow of the story is similar to watching a game, giving readers a sense of immersion. The references to Native American bulls provided were informative.
?? Easy 8: The big event ?? is a story that's more like an action storybook that will keep kids preoccupied. The artwork is minimalist and beautiful. Also, very simple and reveals which bull has its distinctive features when playing with its ridiculous results. You will find out more by purchasing the book, which also includes a free audiobook download to accompany the story reading.
Foster's writing style is witty and intelligent. at the same time, it gives an idea of ​​a well-known event on bull riding. But the story centers around the bull's point of view, which is hilarious and funny. They are smart and adorable. Children will fall in love with it. Carrolyn Foster's storybook is a must-read and highly recommended. A great pickup for any collection or addition to your library. Own a copy today! Available in pocket and e-Book editions.
Book available at https://youronlinepublicist.com/product/easy-8-the-big-event-by-carrolyn-foster/
?? Easy 8: The big event ??
Author: Carrolyn Foster
Publisher: your online publicist
Publication date: July 2020
About the Author
Carrolyn Foster lives in a small rural town in Oklahoma. She is retired from the United States Postal Service. She and her husband raise a few cattle and have lived there for many years. They are active in their local FFA and 4-H programs. Their grandsons are active in showing sheep, archery, trap and clay pigeon shooting. They attend and support most of their events. Writing children's books has been a long-standing desire for Carrolyn. She finally has time to do it.
(Image from press release: https://photos.webwire.com/prmedia/60925/276116/276116-1.jpg)
Related links

Buy the book from the YOP website (your online publicist)
WebWireID276116
Easy 8: The big event
Carolyn Foster
Native American bulls
Children's fiction
Bull riding
Contact information

Jeff Mathews
Production director
Your online publicist

Contact by e-mail
This news content may be incorporated into any legitimate news gathering and publication effort. Linking is allowed.
Press release distribution and press release distribution services provided by WebWire.