Beat Mändli and Cinderella 770 have a $25,000 ending storybook Lövsta Future Challenge 7-Year-Old Developing Jumper Series Classic
Edited press release
Wellington, Florida – March 18, 2022 – Another scenic morning at the Palm Beach International Equestrian Center (PBIEC) set the stage for a day full of competition during the Horse goods Ireland-sponsored Week 10 of the Winter Equestrian Festival (WEF) 2022. Along with its four-star FEI-rated show jumping classes and variety of national divisions, the week featured the rising stars of show jumping. The five-, six- and seven-year-old future stars took center stage throughout the week in the international arena ahead of the Developing Jumper series finale held on Friday, March 18. Lövsta Future Challenge 7-Year-Old Developing Jumper Series Classic kicked off the busy day with a victory for Beat Mändli (SUI) and Cinderella 770.
Forty-five of the best young horses in the sport gave their best against the opening ring of Michel Vaillancourt (CAN) in the hope of qualifying for the first prize jump-off. Vaillancourt challenged them with several wide oxers and a triple combination that proved tricky for many. Still, an impressive total of 16 rider-horse combinations eventually qualified for short track. The field had representatives from nine individual nations in the play-off. The group was fast from the start, and the lead changed hands several times before settling with Mändli, who stopped the clocks in 30.942 seconds.
"Today we had a very fast jump-off and a big one," explained Mändli. "I was at the start of the back order, but she had given me a good feeling in the first round, so I just gave my best shot."
Bringing the young mare to this WEF season was not originally in Mändli's plans, but he now feels it has benefited him.
"The plan wasn't originally to bring her in, but I was a bit short on horses when I came here and had an extra stall, so I thought why not and I shipped from Europe," he said. "I just wanted to play with her a bit, but she's had a great season so far with a handful of double clears and then obviously winning the final today. I didn't really have a plan for the dam; I just rolled as cleanly and as fast as I could on the floor without pushing her too hard.
Luis Fernando Larrazabal (VEN) put in a solid performance with Baroness de Leeann Ablin to take second place. He and the Westphalian mare (Balous Bellini x Polydor) slightly exceeded Mändli's time after stopping the clock in 31.183 seconds. Briton Matthew Sampson and KWPN gelding King Lepatino (Arezzo x Lord Z) of Cumberland Acres LLC took the overall canter victory with their clear time of 31.786 seconds.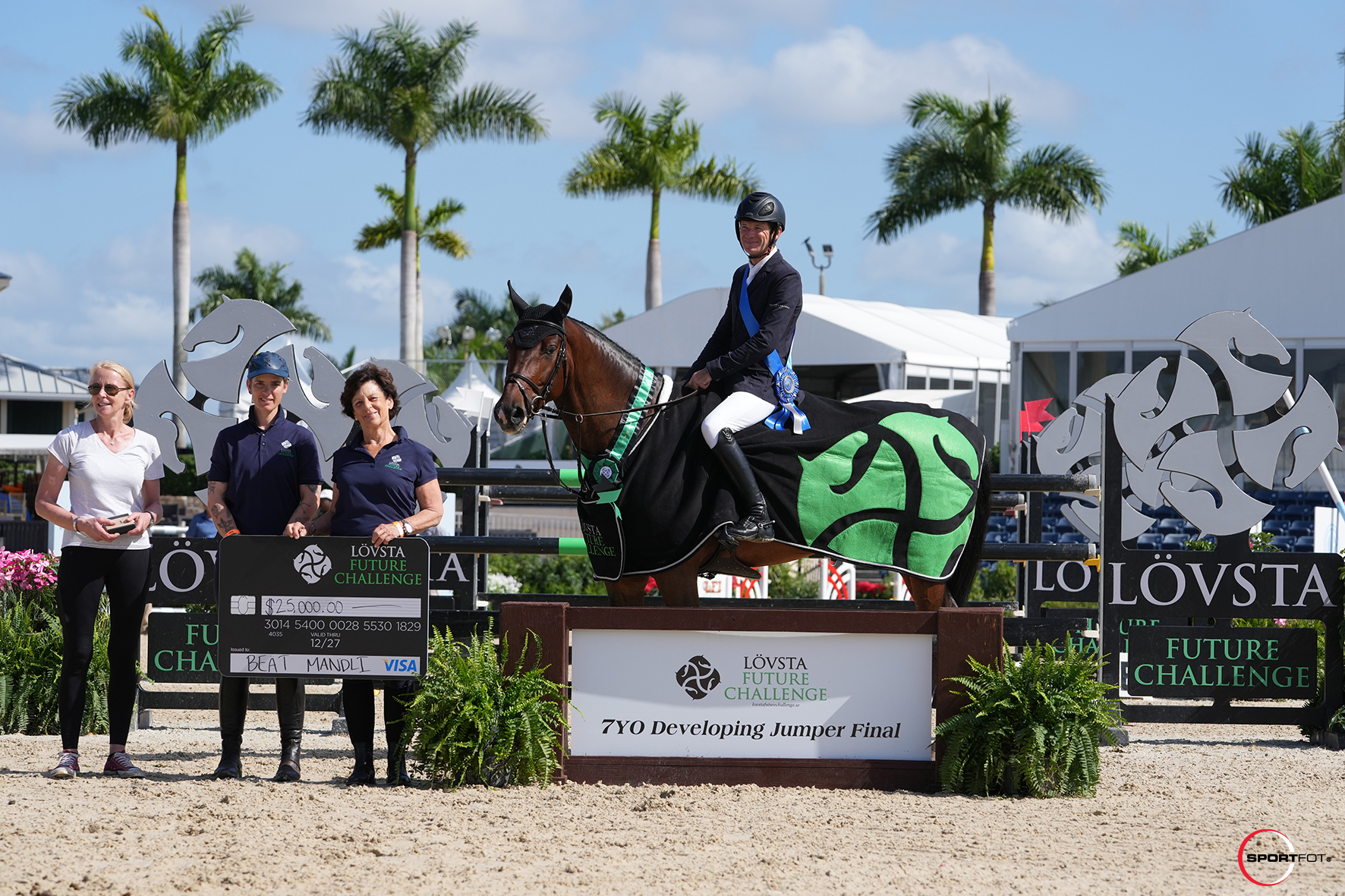 Charlotte Jacobs and Pablo C winners in $15,000 North Star 6-Year-Old Development Jump Series Classic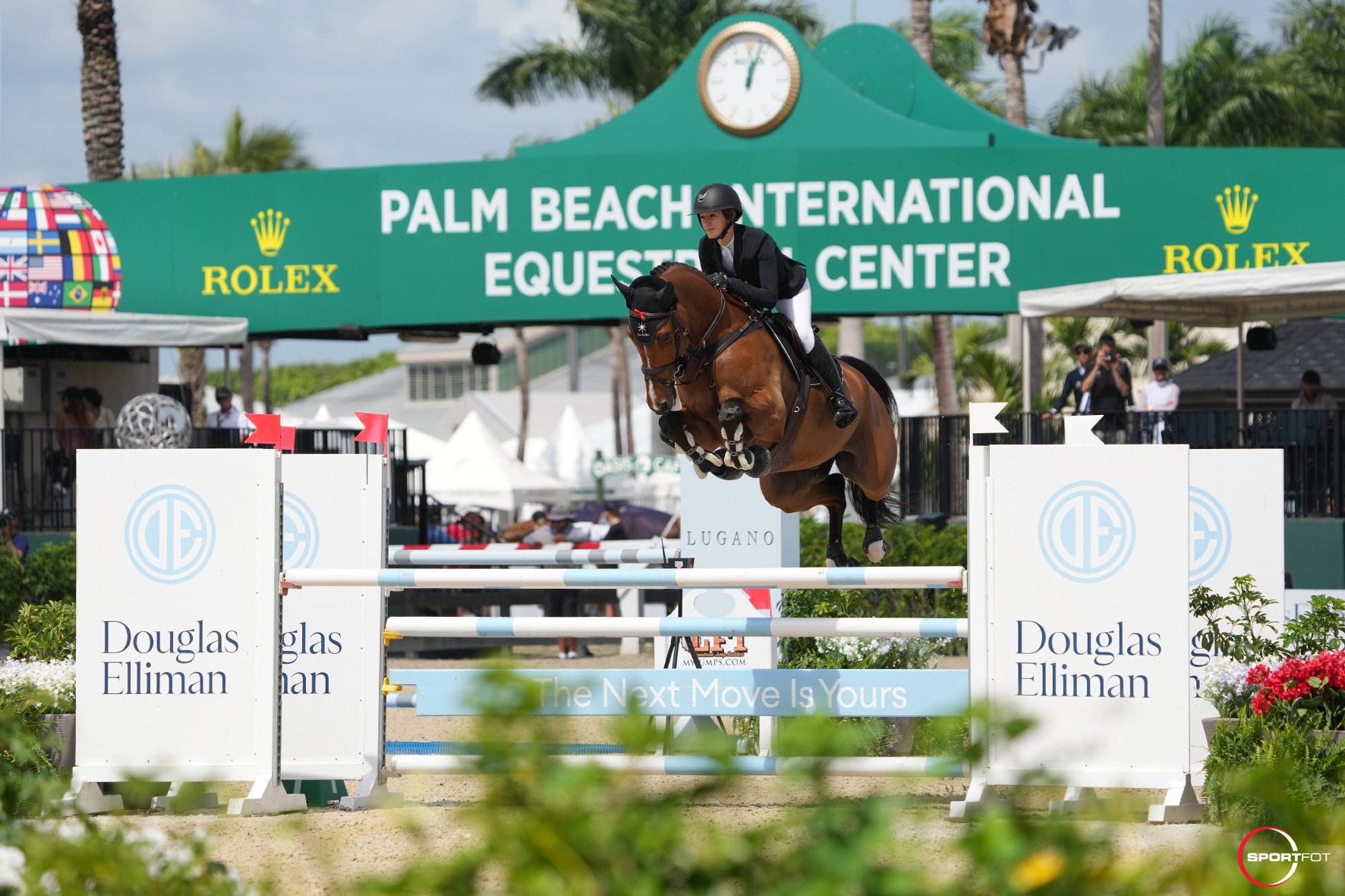 There were 24 combination six-year-olds as the day's second class. Vaillancourt structured the $15,000 North Star 6-Year-Old Developing Jumper Series Classic as an immediate play-off where all pairs that emerged clear in the first round were then given the countdown and invited to their short track. Nine participants managed to double clear in the time allowed, but none could beat the speed of Pablo C driven by Charlotte Jacobs (USA).
Jacobs cruised the stable-sponsored track with North Star's Irish Sport Horse gelding (Pollux De Muze x Chino C) and easily clocked the best time of 31.994 seconds.
"We brought him in from Barnadown Show Jumping in Ireland after following his career throughout the summer," Jacobs described. "He's incredibly easy, fun and safe. He is everything you would want in a show jumper.
While having all the positive attributes, Jacobs explained that he is a bit bigger and slower than some of the other mounts. She went on to describe the move she made in the play-off that she says paid off the most.
"I had to get a little creative in the jump-off, so I actually jumped a bush that was between water and another jump to make up some time," she said.
Pablo C also received the Champion Equine Insurance Jumper Style Award, presented by Laura Fetterman, for his successful round with Jacobs in the class.
Matthew Boddy (GBR) swung to second place with Gotham Enterprizes, LLC SBS mare Rockette (Cool As Well x Liatos) adding just nearly a second to Jacobs' time to finish clear on the fences in a time of 32.464 seconds. David O'Brien (IRL) put Ireland on a gallop to victory by posting the third fastest time in the jump-off with Headley's Kinetic, owned by Leap Year, LLC. O'Brien stopped the times at 33.296 seconds with the mare Warmblood (Kannan x Clinton).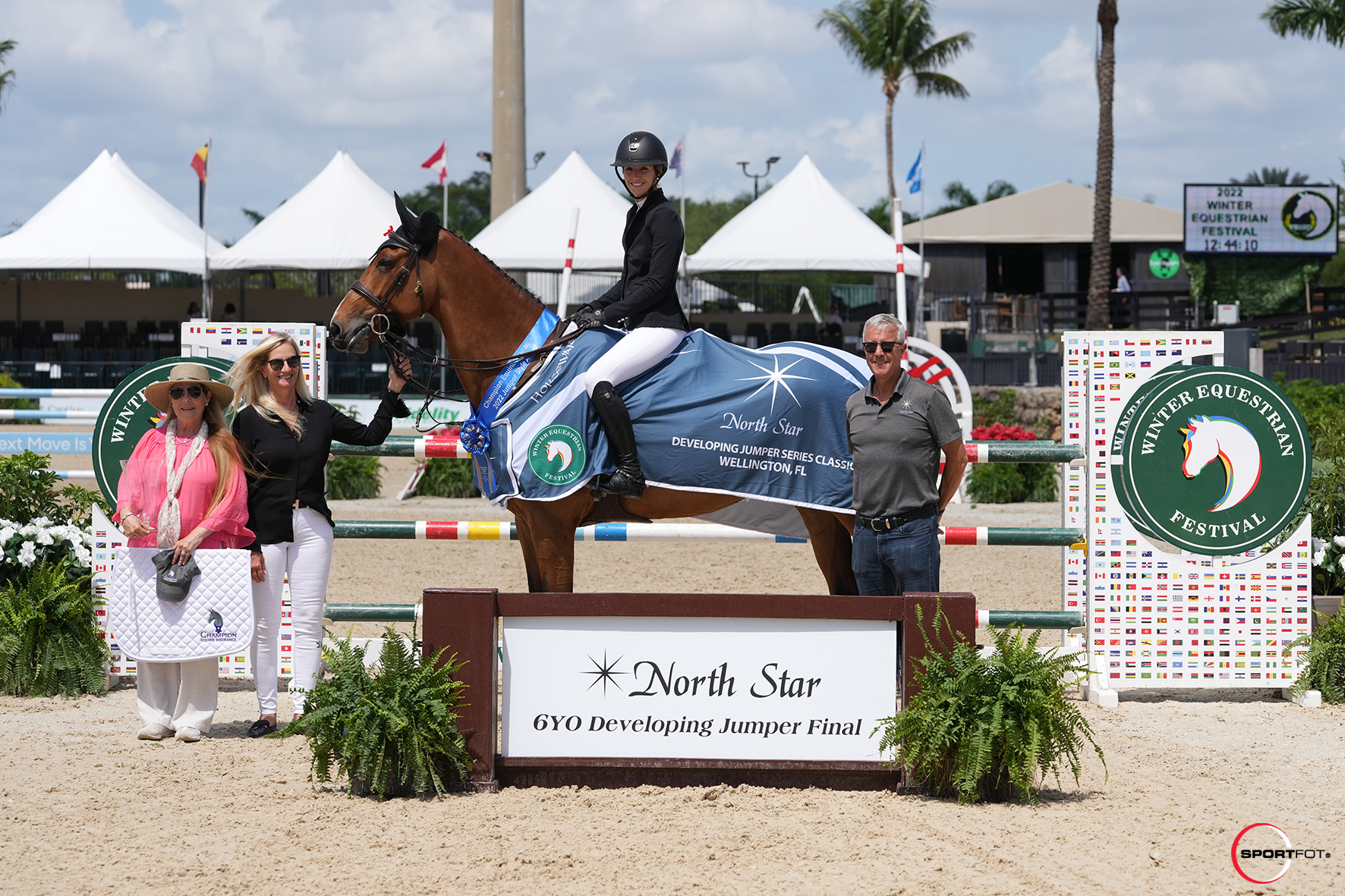 Montana with Memorable Victory in MSporthorses 5-Year-Old Developing Jumper Classic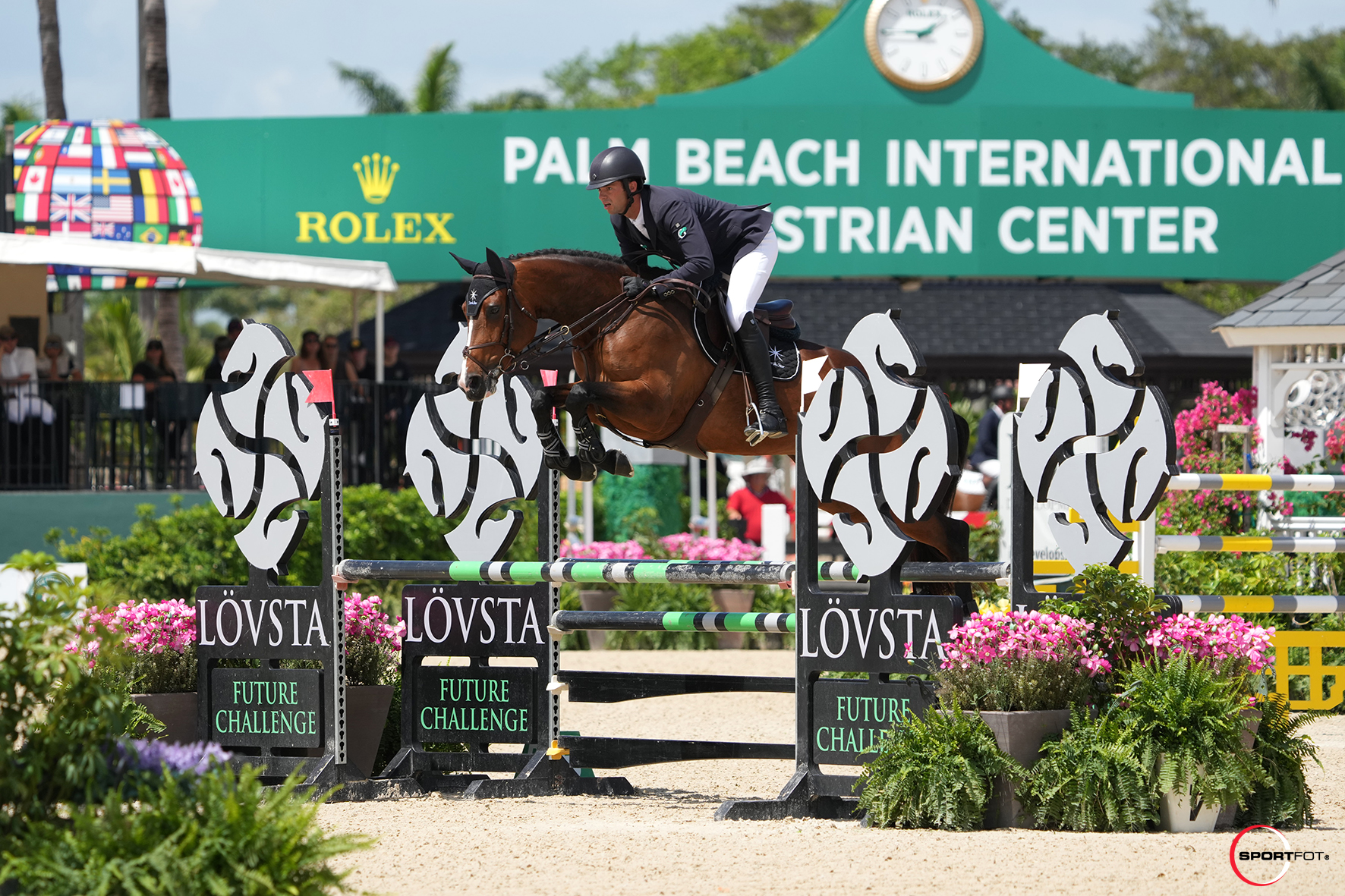 Kevin Gallagher (IRL) rode Montana, a KWPN mare by Casall, to victory in the $10,000 MSporthorses 5-Year-Old Development Jumping Series Classic.
The duo was one of five clear doubles in the field of 13, and their fast time of 31.832 seconds was enough to secure them first place.
"She's inexperienced but she's very cautious," Gallagher said of the North Star-owned youngster. "It's easy to be fast when you know the horse isn't going to knock down the jumps."
Montana's performance marked the second win of the day for North Star, with Charlotte Jacobs also taking first place in the 6-year-old category. Gallagher pointed out that Montana is the one who has been with North Star since the beginning, while his partnership with the mare is new.
"I only started riding her a few months ago here; we are helping Charlotte to be her young horse," Gallagher said. "They bought her as a colt and have produced her so far. She's improved every week, so it's exciting to do with her.
The developing series of jumps presents a learning opportunity for horses to compete against their peers.
"[This series] is brilliant," noted Gallagher. "You can jump in the best rings, the courses are nice and they are not too difficult. You can easily bring a young horse.
Second place in the classic went to Bianca La Fontaine (CAN) with Mister Diamant VG owned by South Shore Farm, and third to Tyson Fury, owned and ridden by Laura Chapot (USA).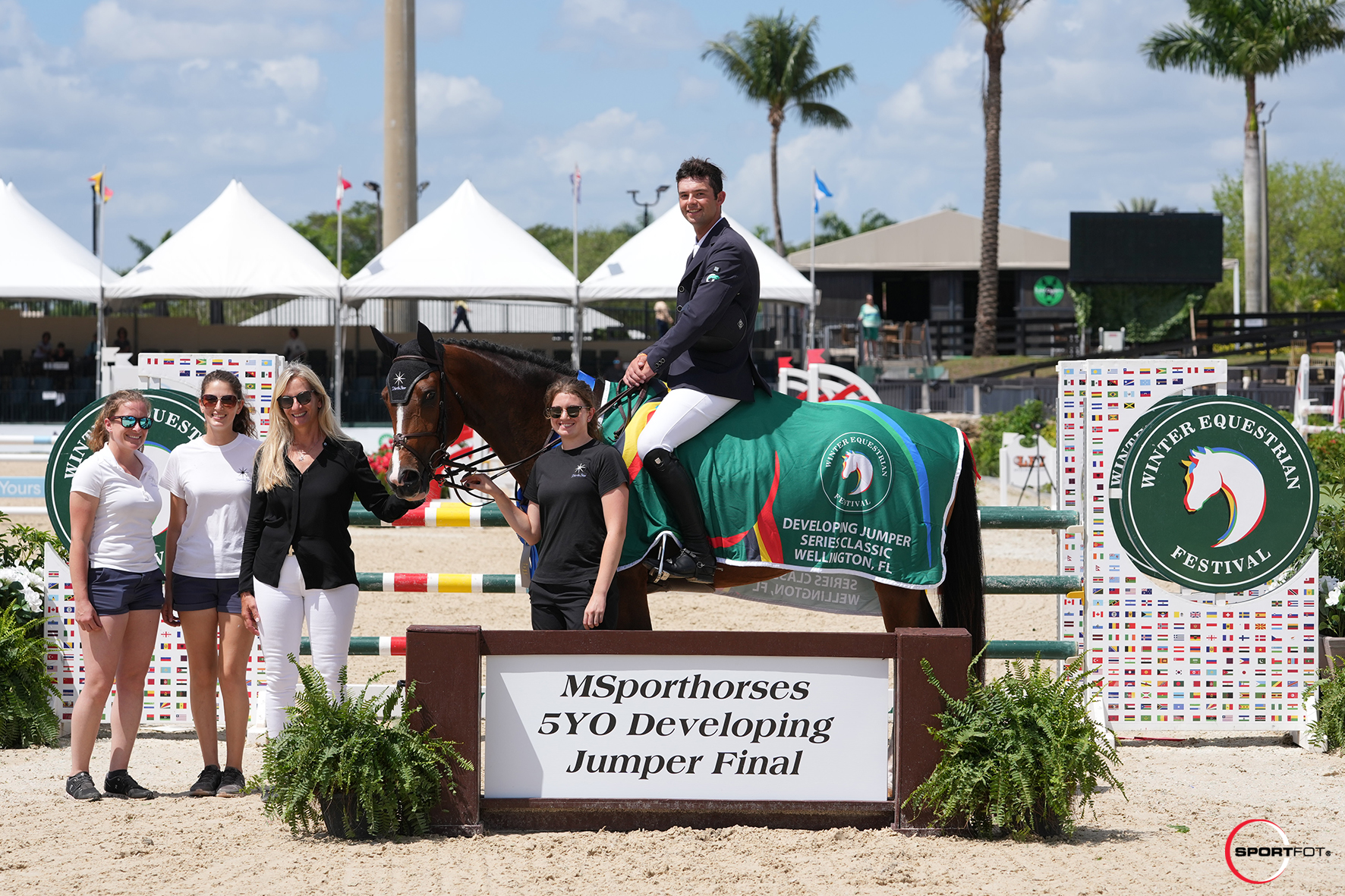 Final Results: $25,000 Lövsta Future Challenge 7-Year-Old Developing Jumper Series Classic
1. CINDERELLA 770: Brandenburg mare by Chetlag x Clarimo
BEAT MANDLI (SUI), Beat Mändli: 0/0/30.942
2. BARONNE: Westphalian mare by Balous Bellini x Polydor
LUIS FERNANDO LARRAZABAL (FRI), Leann Ablin: 0/0/ 31.183
3. KING LEPANTINO: KWPN gelding by Arezzo VDA x Lord Z
MATTHEW SAMPSON (GBR), Cumberland Acres LLC: 0/0/31.786
4. KATIMA: KWPN mare by Dakar VDL x Balou Du Rouet
LAUREN HOUGH (USA), Maarten Huygens: 0/0/32.082
5. BOLEYBAWN BELLA: Irish Sport Horse mare by Capri Van Overis Z x Andiamo Z
KEVIN GALLAGHER (IRL), North Star: 0/0/32.187
6. KALLAN: KWPN stallion by Kannan x Indoctro
LUIZ FRANCISCO DE AZEVEDO (BRA), Santa Cecilia Stables: 0/0/33.836
7. PACINO DI CABRA: Warmblood gelding by Corydon Van T&L
GONZALO BUSCA (ESP), Gonzalo Busca: 0/0/35.265
8. PASCO DOBLE SCF: BWP mare by Diktator VD Boslandhoeve x Cassini I
NICOLE SHAHINIAN-SIMPSON (USA), Riffle Hitch, LLC: 0/0/36.168
9. LAUSBUB 458: Hanoverian gelding by Lord Pizarro x Landor S
SUMMER HILL (USA), Summer Hill and Andrea Simpson: 0/0/39.017
10. QUIZ: Swedish Warmblood mare by Gamelus R
MOLLY ASHE CAWLEY (USA), H5 Sportpferde GMBH: 0/4/31.444
11. FURY D'ANGE: Selle Français mare by Cap Kennedy x Cassini I ERYNN BALLARD (CAN), Ilan Ferder: 0/4/32.523
12. VDL ECLIPSE: KWPN gelding by Emerald V't Ruytershof x Monte Bellini
SAMUEL WILSON (USA), Darragh Kerins: 0/4/34.03
Final Results: $15,000 North Star 6-Year-Old Developing Jumper Series Classic
1. PABLO C: Gelding Irish Sport Horse by Pollux De Muze Z x Chino C
CHARLOTTE JACOBS (USA), North Star: 0/0/31.994
2. ROCKETTE: SBS mare by Cool As Well x Liatos
MATTHEW BODDY (GBR), Gotham Enterprizes, LLC: 0/0/32.464
3. HEADLEYS KINETIC: Warmblood mare by Kannan x Clinton
DAVID O'BRIEN (IRL), Leap Year, LLC: 0/0/33.296
4. EASTER LILY ODF: American Warmblood mare by Chill RZ x Quick Feuer Vankorkshof
MAGGIE JAYNE (USA), Alex Jayne: 0/0/33.846
5. GIGOLO DES FORETS: Selle Français stallion by Vagabond De La Pomme x Diamant De Semilly
TONY CADET (FRA), Shore Acres Farm LLC: 0/0/33.968
6. KANKAN: Oldenburg stallion by Kannan x Quadros
BRITTNI RAFLOWITZ (ISR), ESI Show Jumpers, Inc: 0/0/34.279
7. RINGLEADER: BWP gelding by Lavallino Ter Klomp x Heartbreaker
KRISTY HERRERA (USA), Sharon O'Neill: 0/0/34.482
8. VDL LEGODERMUS PP: Gelding by Harley VDL
ANTONIA PETTERSSON HAGGSTROM (SWEDEN), Abdel Said: 0/0/35.121
9. HELL'S ANGEL 6: Westphalian mare by Hickstead White x Crawford
JESSICA LETO (USA), Jessica Leto: 0/0/40.162
10. LABYRINTH: American Warmblood gelding by Zirocco Blue VDL x Tangelo Van De Zuuthoeve
SARAH STURGES (USA), Sarah Sturges, LLC: 0/4/34.079
11. GUNPOWDER : Gelding Zangersheide by Casino Berlin x Nabab De Reve
GWYNETH BABINGTON (USA), Kevin Babington: 0/8/34.687
12. EMOTION VAN'T LOZERHOF Z: Gelding BWP by Emerald v't Ruytershof x Amour
DAVID O'BRIEN (IRL), Postage Stamp Farm, LLC: 0/8/35.026
Final Results: $10,000 MSporthorses 5 YO Developing Jumper Series Classic
1. MONTANA: KWPN mare 2017 by Casall
KEVIN GALLAGHER (IRL), North Star: 0/0/31.832
2. MISTER DIAMANT Z: Gelding 2017 by Diamant de Semilly
BIANCA LA FONTAINE (CAN), South Shore Farm: 0/0/33.853
3. TYSON FURY: Irish Sport Horse mare 2017 by Tyson
LAURA CHAPOT (United States), Laura Chapot: 0/0/34.532
4. MEDANA MAVERICK S: 2017 KWPN mare by Zapatero VDL
MICHAEL KOCHER (USA), Michael Kocher: 0/0/36.014
5. UPDATE: 2017 Warmblood Gelding by United Touch S
STACIE AARSVOLD (USA), Stacie Aarsvold: 0/0/36.700
6. CEREUZA Z: Zangersheide Stallion 2017 by Cornado II Z
TAYLOR FLURY (USA), Aliboo Farm Inc: 04/33.067
7. DIADOR: Hanoverian Gelding 2017 by Diacontinus
CELSO ARIANI (BRA), Rodolfo Maya: 0/4/35.325
8. MIKOLA DE BALOU: Gelding KWPN 2017 by Il est Balou
ISABELLA HARDING (USA), Heather Chechila: 0/4/39.417
9. MARLEY: 2017 KWPN mare by Irvington VDL
MARIO GARCIA (COL), Mario Garcia: 4/66.906
10. COOL RUNNING VDV Z: Zangersheide Stallion 2017 by Cicero Z
TAYLOR FLURY (USA), Aliboo Farm Inc: 4/67.634
11. TIKTOK Z: Gelding Zangersheide 2017 by Toulon
BROOKE KEMPER (USA), Platinum Life LLC: 4/68.67
12. MO MONEY: Gelding Canadian Sport Horse 2017 by Un Diamant de Forêts x Le Primeur
JIM IFKO (CAN), Eventyre Farms: 8/68.470