Bay Area media legend Spear dies at 72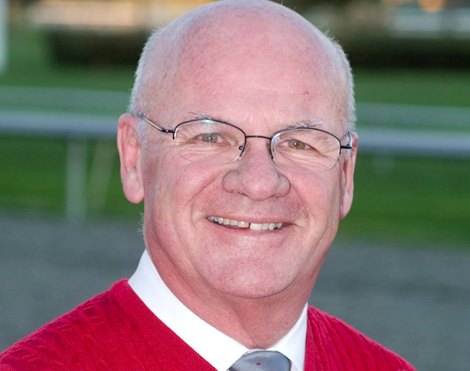 Bay Area media legend Sam Spear died on October 23 at the age of 72 after a long illness. Spear, born November 3, 1948 in Oakland and raised in Alameda, had always been passionate about horse racing. After graduating from St. Joseph's Alameda and San Francisco State, he quickly became a staple of thoroughbred racetracks in Northern California.
Spear has been employed in the racing industry for over four decades. He held the position of Director of Media Relations at Golden Gate Fields and Bay Meadows, assisting media personnel, riders, front line personnel, owners, breeders, riders and fans. Spear truly loved helping others and was dedicated to creating the best possible experience for those he met on and off the track. His affable personality quickly made him a "fan favorite" among fans and riders, and he was often seen chatting with turf club patrons and railbirds.
A close friend and confidant of legendary San Francisco native Joe DiMaggio, Spear often drove "Joe D". to and from Bay Meadows and Golden Gate Fields and made sure he was well looked after throughout the many days of racing in the press box and the Turf Club.
It would be hard to find someone who has done more to promote Northern California racing than Spear. He hosted and produced the popular KTSF-Channel 26 Bay Area Racing Replay which began in 1978 and ran until 2017. He also hosted "At the Track with Sam Spear" , a weekly radio show every Sunday morning that drew a large audience of listeners and some of the biggest names in the race as guests on the show. Spear had contact with all the Bay Area newspapers and news stations and was successful in promoting horse racing through these channels.
Sam was an absolute legend and a great guy. He loved his one-liners and quick-fire insults and picked them up right away with his signature chuckle. As generous as they came and beyond kindness and help. RIP Sam and thank you for everything! https://t.co/2Q0yquZKuO

– Larry Collmus (@larrycollmus) 24 October 2021
Sign up for BloodHorse Daily
Whenever he left a voicemail message, he invariably marked each message with the warning: "And we'll see you at the races."
Spear has been described as a "human encyclopedia" for all things Bay Area horse racing and sports – Giants, A's, 49ers, Raiders, Warriors, and more. His incredible ability to remember specific races, names, dates and stats was unmatched. Spear was a natural storyteller and loved to share memories of the past using humor, wit, and charm. He was also a great supporter of the younger generations and a mentor to many pedigree journalists, TV / radio personalities and callers who have found great success in their respective fields of work.
A funeral mass for Spear is scheduled for November 1 at 10:30 a.m. PT at St. Isadore Catholic Church in Danville, Calif., Where Spear has resided for 20 years with his longtime partner, Barbara O ' Neill.