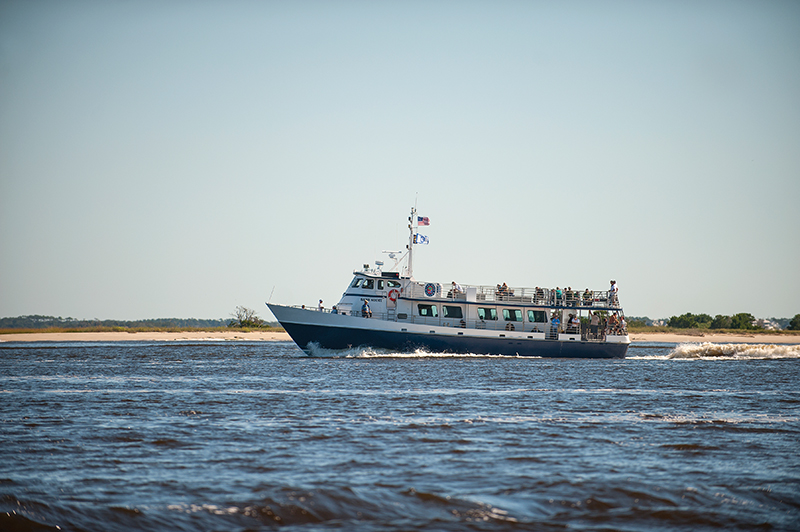 A Multi-Generational Travel Guide for Charlotteans: 2022
More than two years of the pandemic have sharpened the holiday cravings of families. A segment of those stuff sacks in car trunks and overhead compartments this summer will be what travel agents call "multi-generational" or multi-generational travellers. Bring the kids? Shit, bring the parents too. Everyone needs to get away.
These types of trips can enrich, entertain and satisfy. They can also be big complicated pains in the posterior, especially since the threat of COVID is still looming. "I have a multi-generational family going to Africa in June," says Candy Geiler, a Charlotte travel agent for nearly 40 years and agency partner of Charlotte World Travel Mates. The family consists of two couples; five children, aged 7 to 17; and a set of grandparents.
"There are 11, and we are sending them to South Africa," Geiler said in March. "At the moment, with the COVID restrictions, they're stopping in London on their way home, and we had to find a place in London to get them tested for COVID, because they're going to Zambia, and they need to be taken. no less than 72 hours before their arrival in Zambia…"
Travel alone is complex enough, and health restrictions and the juggling act of multi-generational travel further complicate families' plans. A 2021 survey by the Michigan-based Family Travel Association and New York University found that 52% of respondents plan to take multigenerational trips within the year, and 88% of parents plan to travel with their children. That's double the percentage of parents who took trips with their children in 2020, according to the survey.
The desire to get out of town means more pressure on agents like Geiler, who suggests that all-inclusive resorts or destinations closer to home might be better multi-generational bets at the moment. "You certainly don't want, you know, 11 people going to South Africa, and they can't get in. You have a great responsibility to your client to ensure that you are well informed about the dynamics of their location. ," she says. "Now if you take a bunch of kids to Disney World, that's a whole different story."
Easier and cheaper, in other words. Here are four travel options suitable for all ages, and three are within a day's drive of Charlotte. They can scratch the travel itch until it's safe, or safer, to take the family on trips that require a passport.
---
The beach:

bald head island
TO STAY
Leave your car on the mainland and take a ferry or private boat to this 12,000-acre island. Bicycles and golf carts are the only transportation options. Rent a beach house through Airbnb or Vrbo, or stay at Marsh Harbor Innwhich has 13 rooms and serves a hot breakfast each morning.

EAT
the Marine market has everything you need for family meals. When the group wants to eat at the restaurant, Jules' Salty Grub & Island Pub offers a wide selection of seafood and a children's menu. Copper Wood Fired Cooking, Jail Provisionsand Horizons all have family options.
CHEEK
Cross the island on a beach cruiser from Riverside Adventure Company. Children's bikes, trailers and child bike seats are available for hire. Book an excursion with Coastal envyand admire the island from a kayak or paddle board, or stop Jail Provisions to play quizzes or bingo. Visit Southport by ferry and take a self-guided tour of filming locations from Dawson's Creek, Matlock, safe haven, Weekend at Bernie's, and dozens more. So explore Old Baldy Lighthouse and the Smith Island Museum.
More information: ncbrunswick.com
---
Mountains:

Burnsville
TO STAY
Wander Mount Mitchell Eco Retreatit is 28 acres of fields and streams. The lodges have rocking chairs with views of the Black Mountains. Some units have bunk beds and the lodges are within walking distance of each other. Prepare family dinners in the community kitchen and eat in the dining room in the main lodge. Play cards and board games by the fire, relax in a hammock, roast marshmallows by the fire, or challenge Grandpa to a game of ping pong.
EAT
The lunch and dinner menus at Pork and grits in downtown Burnsville include burgers, barbecue, chicken tenders, fish and a variety of sides. A full breakfast menu is also available until 11:00 a.m.
Homeplace Beer Company and Hog Hollow Wood Fired Pizza have plenty of indoor and outdoor seating. Wood-fired pizzas are the specialty, but small plates and sandwiches are also on the menu. The brewery specializes in malts and dark and sour beers. During the summer months, the outdoor area features horseshoe pits, fire pits, board games, and live music on Tuesdays and Saturdays.
CHEEK
To visit Westside Quilt Blocks Trail in western Yancey County and snap photos of the 17 quilt squares on barns and buildings. Buy a guide on One-of-a-kind art gallery in Micaville, or go online for an interactive map. Bring crayons or crayons to color in the sketches for each quilt block in the guide. Admire the constellations, galaxies, satellites and meteors at the Mayland Earth to Sky Park's Bare Dark Sky Observatory. Hike to crab scraps, a 70-foot waterfall, in the Pisgah National Forest along the Blue Ridge Parkway; just be aware that the loop trail is over two hours long and includes three flights of stairs.
More information: exploreburnsville.com
---
South:

Oconee County, South Carolina
TO STAY
Install the family in a cabin, a pavilion or a yurt at wild water in Oconee County. The Corkscrew Cabin can accommodate 12 people and the Jawbone accommodates eight. Each unit has a fully equipped kitchen and ample dining and outdoor spaces. Book rafting and zipline adventures when you book your rooms.
EAT
Finding a restaurant in the mountains can be tricky, so stock up on snacks at Long Creek General Store. Near Wildwater, humble pie serves pizzas, sandwiches, wraps and quesadillas. Barbecue at the Brasstown Creek gathering place is open on Fridays and Saturdays from 4 p.m. to 9 p.m.
CHEEK
To visit Stumphouse Park to see the Stumphouse Tunnel, Issaqueena Falls, and hike the Blue Ridge Railroad Trail, an easy to moderate 2.5 mile hike through the forest. Proximity Yellow Branch Falls is a moderate 45 minute hike to a 50 foot drop. Book a pontoon boat with Lake Jocassee Tours and see Lake Jocassee, or head to Devil's Fork State Park for camping, fishing, scuba diving, swimming and a 1.5 mile nature trail. Rent canoes and kayaks through eclectic sun.
More information: visitoconeesc.com
---
More to the south : Naples, Florida
TO STAY
Edgewater Beach Hotel has beach access and a range of activities. Enjoy two outdoor swimming pools, the Reflections Pool Bar and Coast, the hotel's famous restaurant. Rent paddleboards, kayaks and bikes for family outings and treat yourself to milk and cookies each afternoon at the hotel.
EAT
Coast at Edgewater serves breakfast, lunch and dinner and offers room service and delivery to the beach and pool. Venture into downtown Naples for pizza, pasta and seafood at Osteria Tulia. For a large group with varied tastes, try the food trucks at Celebration Park along Haldeman Creek. For a casual meal, head to Riverwalk in Tin City for burgers, fish, salads, sandwiches, tacos and raw sea bass. Save room for ice cream at M&M's Cafe.
CHEEK
To visit Naples Zoo in the Caribbean Gardens, a 43-acre lot featuring black bears, cheetahs, lions, panthers and pythons in gardens filled with ficus trees, orchids and palm trees. Take a walk on the boardwalks and paths of the Naples Botanical Garden to see ponds, sculptures and plants from around the world. Take the wheelchair-accessible path to the birdwatching tower near Lake Tupke to spot feathered friends. Book a boat trip with Pure Florida to learn about dolphins, manatees and local birds, then stop at Keewaydin Island look for seashells. Thrill seekers can see the Everglades from an airboat.
More information: paradisecoast.com
---
Multi-generational travel advice from Shanell Varner, CEO and Chief Travel Advisor at Moonglade Tourist attractions in Charlotte:
Review the types of accommodation. Ask your family members about their vacation budgets and preferences before you book. Members may prefer camping to a four-star resort, and it is best to discuss this in advance.
Stay flexible. Make reservations for excursions with the whole group, but leave time for yourself to relax and have fun.
To separate. You don't have to do all activities together, but use a buddy system for safety and inclusion. This way everyone can do things they love.
Share kitchen chores. Ask everyone to help create menus, buy groceries and prepare meals. Consider food allergies and dietary restrictions.
Enjoy the moment. Consider keeping a journal of your getaway and take a moment to reflect on why you took this trip and who accompanied you.