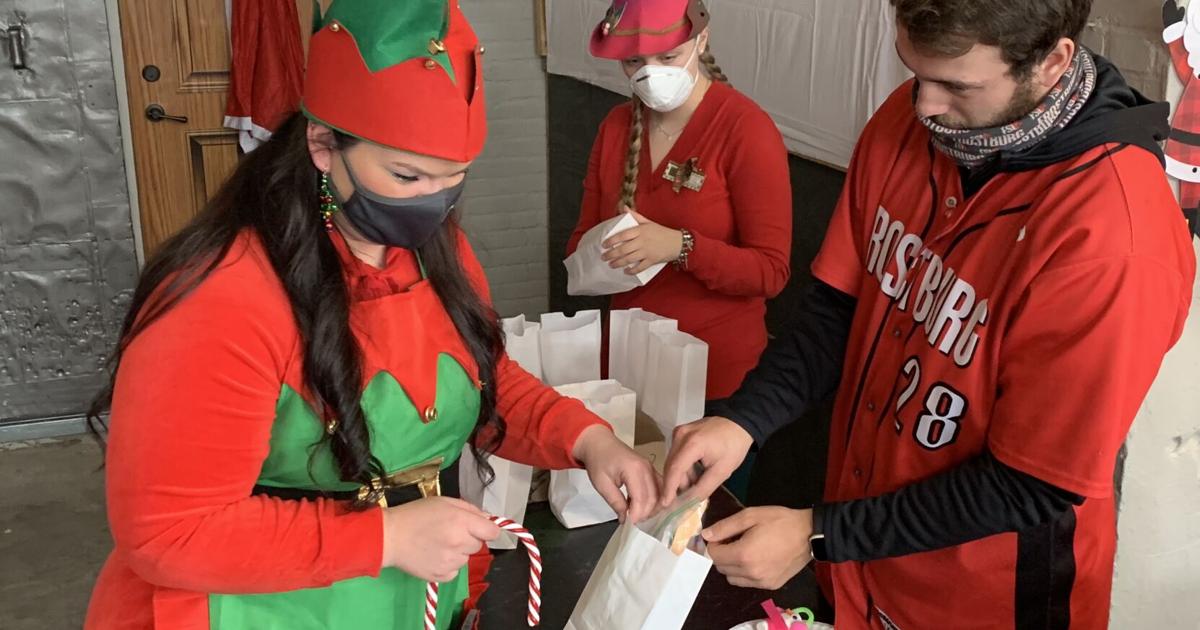 'A Magic Moment': Storybook Holiday Spreads Seasonal Joy in Frostburg | Local news
FROSTBURG, Md. – Storybook Holiday has a way of bringing people together, to the point where you can even watch Santa Claus and the Grinch sharing space on a parade float.
Hundreds of people gathered in Mountain City on Saturday for the popular annual event of the Children's Literature Center at Frostburg State University, which returned for an in-person celebration this year after the pandemic took it down. forced to change last year's offer. Little touches of public health mindfulness were present – like masked elves and crowd size limits inside Santa's workshop – but the event was as cheerful and well attended as never in his 18th year.
One of the first big events of the day was the Elven Olympics held on Broadway. In the parking lot, 12 teams took part in the first two challenges – a two-round cookie toss followed by a marshmallow catch.
After the second event, about half of the teams were knocked out, and the rest moved on to gift wrapping and tree decorating. In total, the "Electric Elves" team won gold.
After a lively parade down Main Street, people returned to Broadway and City Place, where a long line of people waiting to enter the elves' secret workshop gathered.
On one side, the children could sit and write letters to Santa Claus which they would put in a large red mailbox. On the other hand, while they lined up to walk through the workshop and bring back a craft kit, children and their families could pose for photos with the elves.
"We were expecting a big rush, and I think we got it," said Sarah O'Neal, director of the Children's Literature Center.
O'Neal said it was exciting to host the event in person once again, and the large crowd in attendance was proof of how much the day had been missed.
"We were really excited to be back this year," said O'Neal. "We really only have a few restrictions, of course, but we wanted to make sure everyone was safe. But it feels good. We have had phone calls to the center since last year asking if we are coming back in person so we are so glad to be back.
The way the community comes together to celebrate and support Storybook Holiday "makes it really special," said O'Neal, of the great turnout with the participation of local businesses, city agencies and other organizations.
"We're really, really excited in general," said O'Neal. "I think it's really well received, as you can see through the doors to enter."
Ellie Bolton, a graduate assistant from the Center, served as the head elf, which involved helping organize the day and making sure everything went smoothly throughout the celebration. Saturday's storybook party was the fifth she attended.
Seeing their hard work pay off and "all the magic of the kids," said Bolton, made an already rewarding day even better.
"All the pieces line up, and as a volunteer you can really see the magic," Bolton said. "It really is a magical moment."
Between two groups guided through the new station during their "Cocoa with the PoPo" event, Frostburg Police Chief Nicholas Costello said they normally receive around 300 children and parents throughout the day.
Storybook Holiday, said Costello, "is one of the most fantastic events." Like Bolton, he said the day was "magical".
"It's just a very magical thing," Costello said. "It brings the holiday spirit to Frostburg and a really positive feeling. "
Lindsay Renner-Wood is a reporter for the Cumberland Times-News. Follow her on twitter @LindsayRenWood.